Cinch Clinic – DEPOSIT – Rancho Cucamonga, CA – Feb 3, 2024
$100.00
Cinch Clinic – Rancho Cucamonga, CA – February 3rd, 2024
Basic Cinch Making Clinic  – $100 SEAT RESERVATION & DEPOSIT
Class Description:
Join us at our Cinch Building Clinic in Rancho Cucamonga, CA, on February 3rd, 2024, where you'll have the chance to explore your artistic talents and meet like-minded individuals who share your passion for creating beautiful cinches.
This introductory cinch-making clinic will cover a wide range of topics, including Cinch Materials – Natural vs. synthetic – Determining Cinch Size – How conformation affects cinch width and length – Knots to Know – Cordage Length – Building the Cinch – Details & Design work – After build care for your cinch – Resources for materials to make more cinches.
As this is an introductory cinch class, we'll focus on straight cinches. You can use the techniques learned to create custom straight cinches, breast collars, belts, hat bands, key chains, and more. The skills used in making a straight cinch are prerequisites for more advanced builds such as roper and english style cinches.
You'll also take home all the tools needed to create a cinch – Loom – Instruction Booklet – 5-piece tool kit.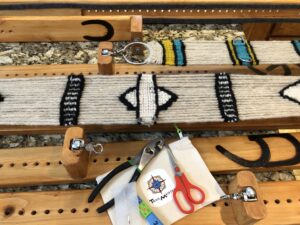 Not only will you have the opportunity to learn new skills and techniques, but you'll also be able to connect with other creative individuals and share your experiences and ideas. Seats are limited. Sign up today
Fees: 
$350 per class. *To hold your spot in this clinic we require a $100 deposit.
THE REMAINING REGISTRATION FEE ($250) IS REQUIRED TO BE PAID AT CLINIC CHECK-IN.
The deposit is NON-REFUNDABLE. In the unlikely event that WE cancel the clinic, all participants will be refunded their deposit.
(Cinch Clinic Fees do not include camping, meals, etc.)
Contact:
Robert@TrailMeister.com
or
Heather – localtrailofalrc@gmail.com
Venue:
Alta Loma Riding Club
Heritage Park Equestrian Center
5546 Beryl St.
Rancho Cucamonga, CA 91737
Schedule:
Saturday
Check-In 7:30 AM-8:00 AM
Cinch Building 08:00 am – 5:00 pm
14 in stock