Bucktail - sblenden added this area
Wardensville, WV
Directions

×

Driving Directions

Click the icon for directions in google.

Off I-81 in Virginia, take exit #296 taking Route 55 West to Wardensville, WV driving 19 miles (approximately 27 minutes). Go through Wardensville and turn left onto Trout Run Road. In 6.2 miles, a sign will indicate the Bucktail Trail Parking lot on the left.

☆☆☆☆☆
Directions

×

Driving Directions

Click the icon for directions in google.

Off I-81 in Virginia, take exit #296 taking Route 55 West to Wardensville, WV driving 19 miles (approximately 27 minutes). Go through Wardensville and turn left onto Trout Run Road. In 6.2 miles, a sign will indicate the Bucktail Trail Parking lot on the left.

☆☆☆☆☆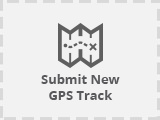 No routes found... Be the first to submit one.
Bucktail parking area and trail head is a gravel loop (no backing required) and has spots for 8+ horse trailers. Overnight camping is allowed but there are no amenities. Bucktail parking has access to Long Mountain Trail (#1007), which is 8.7 miles to Judge Rye Rd (S.R. 691), and Bucktail trail (#1030) and Bucktail Connector (#1030A).
Bucktail (#1030) and Capon Trail (#1029) make a nice 10.5 mile loop, there is a single horse bridge crossing and part of the trail follows a rocky stream bed for a while.
These trails are part of the Old Dominion Endurance Rides 100 mile trail and connect to many other forset service trails. I recommend buying a Lee Range district map and plan on exploring.
Mant thanks to Sblenden for sharing this fabulous horse riding area in West Virginia!