Great Seal State Park - TrailMeister added this area
Chillicothe, OH
Riders have logged 16.50 miles & 5.50 hours here.
TOP TRAIL RIDER: anne-hunter logged 16.50 miles.
No routes found... Be the first to submit one.
Date
Rider
Hours
Minutes
Miles
GPS
Photos
Rating
25 Oct 2018
anne-hunter
Ride Notes
5 h
30m
16.5
✔

★

★

★

★

★
Great Seal State Park lies upon the Appalachian escarpment, a line of hills stretching across Ohio's mid section which outline the edge of the Appalachian plateau in the state. The definition is obvious from the trails in the park where one can see Columbus on a clear day to the north and unbroken forested ridges to the south.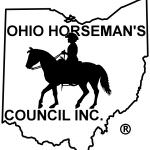 Many horse trails throughout Ohio have been established and are maintained by volunteers of Ohio Horseman's Council in cooperation with landowners.
The Ohio Horseman's Council Inc. is a non-profit corporation organized in the state of Ohio. We advocate for the preservation of bridle trails throughout the state as well as the rights of equine owners.  OHC has more than 4,500 members in 70 county chapters representing all ages of rider, breeds of equine and riding disciplines. Click here for more info on the Ohio Horseman's Council.