Just as the Old west has given way to the New west  – Cowboy Bedrolls have also come a long way since the 1860's.
The old west that we tend to romanticize wasn't quite as idyllic as we've made it out to be.
For example, the traditional cowboy bedroll set-up. Make no mistake about it, these have worked for over a century but while a system like this will keep the worst of the weather off, it's far from rain and weatherproof.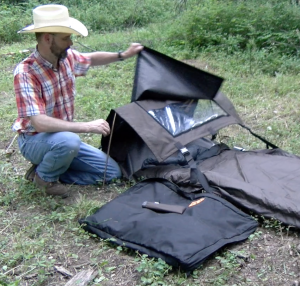 Enter a 21st century alternative to wrapping a canvas tarp around. The Ranger Bedroll series from 5 Owls.
This is the Ranger 2. It's an all-in-one bedroll system. Everything that you need for camping out is included so you can easily pack it in and roll it out.
It's an all in one bedroll system created from High tech materials that are waterproof and breathable.
There's a built-in sleeping bag to keep you toasty warm through the coldest nights
And there's even a roof with a window for star gazing!
It even has a mat for clean feet and gear storage!
Enjoy the views at night and still be comfy if a storm rolls in!
We used the Ranger 2 model on horse camping trips throughout the summer of 2017 and found that it kept us warm and comfortable in all weather. We had multiple nights with frost and even dips into the mid-20's on several occasions. The brisk temperatures made getting out of the bedroll a test of willpower!
You can learn more about the Ranger 2, and other 5 Owls products, at 5owls.net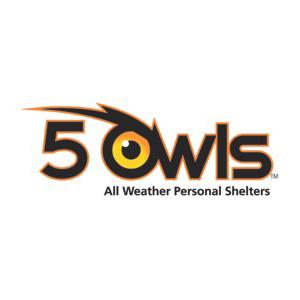 You can also find
Here's a video about the Ranger 2
By the Numbers (The Specs):
The Ranger 2 Bedroll System includes a fully integrated, super comfortable, plush, high loft sleeping bag into the system:
Rated for 20 degrees
High loft polyester continuous filament insulation
Built-in hood keeps the drafts out
Breath-easy sleeping bag collar
Oversize, insulated no-draft zipper tube
Oversize, insulated no-draft collar tube with drawcord
Separate mattress compartment (mattress sold separately) keeps the mattress underneath you always
Inside pocket for a smartphone, headlamp, and misc. items
Easy Deploy Tent (from the comfort of your sleeping bag) completely shelters you from the elements
Huge TPU Front Window lets you fully enjoy the outdoors while protecting you from the wind and rain
YKK Zippers are the most reliable zippers on the market
DAC Pressfit Pole is strong, lightweight, and excellent quality
Premium nylon ripstop waterproof/breathable sleeve top:
10,000 mm waterproofness
10,000 g/m2 breathability
Tough and durable 500D Cordura® Tent & Bedroll Cover is built for rugged conditions:
5000mm waterproof polyurethane coating
Highly durable 200D nylon ripstop floor:
5,000mm waterproof polyurethane coating
3″ Storm Flap covers the zipper
3″ Storm Gaiter connects the tent to the sleeve
2 clear TPU side window/vent panels
Integrated carry handle
3 dual-purpose tent anchor & bedroll closure straps
Sleeping  Bag Dimensions:  37" x 82" max (slight tapering)
Tent:  20" h x 38.5" w
Window:  9.5" x 22.5"
Rolled Dimensions:  11.5" x 38.5"
Minimum Weight:  8 lbs 0 oz
Packed Weight:  8 lbs 8 oz