TrailMeister Clinics & Invite TrailMeister to Your Event
Robert Eversole, the TrailMeister, spends 5-6 months of each year traveling all over the US, and internationally, leading trail riding and horse camping clinics. These clinics are geared towards helping horse owners and their animals escape the arena and enjoy the great outdoors. At our clinics the main goal is to help build the confidence of attendees with a mix of candid humor and straight talk as well as actionable steps to back up any lofty ideas I may share.
Insight, Action and Personable Humor
My role in your event is to mash the best of what I know against my research and experiences as a trail rider and horse camper and the conversations I have with clinic attendees, and turn it into something of value and action and fun. I'm not a juggler or a magician but I am also not a stuffy suit. My job is to deliver value to every clinic attendee AND make you look good for hiring me.
The Process of Booking Me
I'm pretty easy to work with. Get in touch with me and we'll figure out dates and rates and all that kind of stuff.
Upcoming Appearances
03/04/22

Washington State Horse Expo

Clark Co, WA – March 4-7 2022

03/12/22

Nebraska Horse Trail Riding Expo

Elkhorn, Nebraska – March 12-13

03/18/22

Back Country Horsemen of Washington Rendezvous

Ellensburg, WA – March 18-20
Past Appearances
01/19/19

North East Chapter Backcountry Horsemen of Washington – Clayton, WA

01/26/19

TrailMeister Clinic Weekend – The Grange, Issaquah, WA

03/01/19

WA State Horse Expo – Clark Co. WA

03/09/19

Horse Trail Riding Expo – Elkhorn, NE

03/15/19

Washington – Back Country Horsemen Rendezvous – Ellensberg

04/06/19

Clinics with Mount Adams BCHW – Goldendale, WA

04/13/19

Clinics with Cascade Back Country Horsemen – Marysville, WA

04/26/19

Minnesota Horse Expo – St. Paul, MN

05/03/19

Hoosier Horse Fair – Indianapolis, IN

05/15/19

Panhandle Back Country Horsemen – Dalton Gardens, ID
---
THANK YOU for our "highlining" clinic for the YeeHaws. I know everyone enjoyed it and learned a lot! It was AWESOME that you share your time and talents with riders, so that we gain confidence, knowledge and the know how to go out there and RIDE!!

I had a blast and learned some valuable skills I plan to put to use very soon! I really hope the TrailMeister comes to Fire Mountain again next year because I will certainly be there! You all missed out on some great times for those who didn't make the trip in.

You really made the PQHA Elk-Stravaganza weekend special and we would love to have you again.

Awesome packed Horse Camping 101 session at the Southern Equine Expo! The crowd enjoyed having the TrailMeister in the house!

Robert you are a great speaker, teacher and entertainer! Thank you, I learned a lot!

The ABC's of Trail Riding Seminar with Robert TrailMeister Eversole - awesome!

Truly enjoyed your presentations at the Midwest Horse Fair!
---
TrailMeister Clinics – There are many clinicians that teach horse owners to bond with and ride their animals. We help riders learn to enjoy their horses and mules outside the arena, doing what most of us dream about: trail riding and camping with our horses.
At TrailMeister we believe that you are so much more than "just a trail rider".  TrailMeister Clinics introduce horse owners and riders to the world of trail riding and equine camping whether your aspirations are for the backcountry or the local park.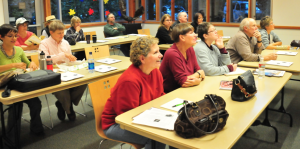 TrailMeister Seminar topics include:
ABC's of Trail Riding –Whether you're an aspiring or active trail rider you'll enjoy this primer on the how's and why's of trail riding using the aspiring or active trail rider.   From A to Xenophon we'll discuss what you need to think about BEFORE you hit the trail.
Getting Back to Camp in Time for Dinner – Land Navigation for Equestrians

The Needle Points Where? – Trail Riders "know" that a compass points north. Or does it? The wrong answer can make you very late for dinner.
Those Wavy Crazy Lines – Trail Riders; Learn to view a map in 3-D, no glasses required.

Horse Camping 101 –When life gets hectic and you just need to get away, what could be a better escape than a camping trip with your horse? All good camping trips with horses require preparation. And planning can be part of the fun. The reward is being able to ride for as long as you want with friends and family. Let's talk about tips for getting the most out of your camping trips this summer.
Horse Camping 202 – Venture beyond the trailhead for an epic backcountry horse trip!
Lightweight Horse Camping – If you want to trot off into the wilderness for a few days but fall short because you don't have an extra horse to carry all of your gear, don't fret.  You'll love the versatility of Lightweight Horse Camping! We'll borrow from the world of ultra-lightweight hikers, use the tools from Leave No Trace, and combine them with backcountry horse camping to get you into the backcountry without pack stock.
Highline How To's – Keeping your animals safe and secure is paramount when camping with stock. Learn the art of setting up a highline without gadgets or gizmos.
When the Sh@t Hits the Fan –Are you prepared for when "Just a Day Ride" becomes much much more? Are you prepared for the challenges you'll encounter during an emergency? Together we'll discuss what you'll need to get through a long night and how to summon help when the bars on your phone are few and far between.
Steps that can Save your Life if the Worst Happens During a Ride – Make your trail rides safer by examining a harrowing horse wreck and discussing what went right as well as what went wrong.
Getting Back in the Saddle after a Traumatic Event –  Getting back in the saddle after a bad ride can be hard. In this clinic, we'll discuss the steps that worked for me after a horrible wilderness trail ride.

Request more info about having TrailMeister speak to your group
Fill out the form below to request more information about our speaking options. We will get back to you as soon as possible. It'll help if you fill it all in!