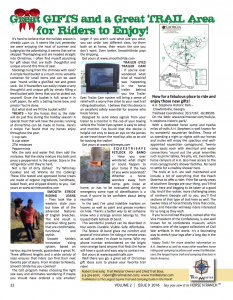 Great Gifts and a Great Trail Area for Riders to Enjoy!
As published in Horse N Ranch November 2016 issue
It's hard to believe that the holiday season is already upon us. It seems like just yesterday we were enjoying the heat of summer and judging by the advertising, it seems that we've skipped Thanksgiving and are headed straight into Christmas. I often find myself searching for gift ideas that are both thoughtful and unique around this time of year.
Stockings hung from the chimney with care? A simple feed bucket is a much more versatile container for small items and can be used year 'round unlike a glorified red and green sock.  Do It Yourselfers can easily create a very thoughtful and unique gift by simply filling a feed bucket with items that you've picked out yourself. Once the bucket is full, wrap it in craft paper; tie with a bailing twine bow, and presto! You're done.
But what shall we fill the bucket with?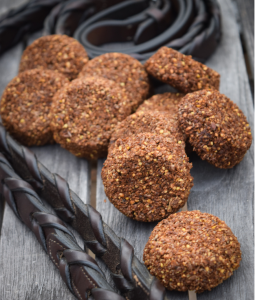 Treats – For the horses that is; the rider will do just fine during the holiday season! A special treat that will have the ponies running at dinnertime can be made at home. Here's a recipe I've found that my horses enjoy throughout the year.
1 cup oats
¼ cup water
2Tbl molasses
Peppermints
Mix the oats and water first then add the molasses. Roll the sticky mixture into balls and press a peppermint in the center. Store in the refrigerator until they're hard.
Not a fan of dirty dishes?  Try Whinnies Cookies and let Winnie do the cooking! These Ellie tested and approved horse treats are made of organic ingredients, handmade, baked fresh, and shipped directly to you.  Get yours at www.winniescookies.com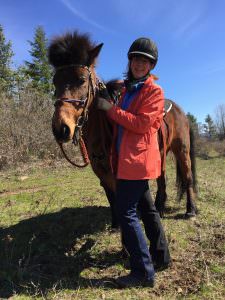 Smooth Stride Riding Jeans – They look like a western style jean but have all of the advanced features of English breeches. The end result is practical riding pants that are comfortable, functional, and stylish.
Smooth Stride's innovative sizing system, based on various equine breeds, guarantees a great fit. Three different lengths and a wide variety of sizes ensures that riders can find their next favorite pair of jeans. From Arabian to Nokota, Smooth Stride has you covered!
The Colt program makes choosing the right size easy and eliminates wondering if maybe you should have ordered a size smaller/larger. If you aren't sure what size you wear, you can order two different sizes, try them both on at home, then return the one you don't want. Even better, SmoothStride pays the shipping.
Get yours at www.smoothstride.com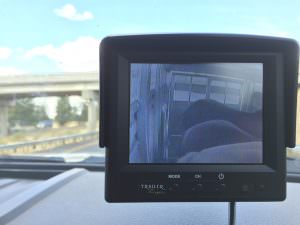 Trailer Eyes Trailer Cam – If you've ever wondered what kind of mischief was happening in the horse trailer behind you the Trailer Eyes Trailer Cam system will bring a sense of relief with a worry free drive to your next trail riding destination.  I believe that this device is an excellent safety essential for anyone who hauls horses.
Designed to send video signals from your trailer to a monitor in the cab of your towing vehicle the Trailer Eyes system is easy to setup and monitor. I've found that the device is helpful not only to keep an eye on the ponies as we travel down the road but also as an aid for backing the trailer!
Get yours at www.trailereyes.com
EquestriSafe Fetlock ID Band – Have you ever wondered what might or could happen to your horse if the two of you were separated? Whether a horse wonders away from camp, gets loose at home, or has to be evacuated during an emergency some type of identification is a must if you're to be confident about being reunited.
In the past I've used indelible markers on hooves as well as paint and grease markers on hide. There's a better way to let someone know who a strange animal belongs to. The EquestriSafe Fetlock ID band.
This wonderful product can be described in four words. Durable. Visible. Safe. Affordable.
The fetlock ID band gives me comfort and peace of mind when I'm riding in remote areas as well as when I'm closer to home. With my phone number embroidered on the bright neon orange band anyone that finds the horse will have a quick and easy way to contact me.
Get yours at www.equestrisafe.com
Well there you go; a great set of Christmas gift ideas sure to please your favorite trail rider!
Now for a fabulous place to ride and enjoy those new gifts!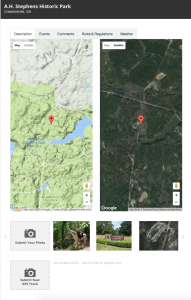 A.H. Stephens Historic Park – Crawfordville, Georgia
Trailhead Coordinates: 33.57267, -82.89595
Learn more about A.H. Stephens here: www.trailmeister.com/trails/a-h-stephens-historic-park/
With a dedicated horse camp and twelve miles of trails A.H. Stephens is well known for its wonderful equestrian facilities. Those of us spending a night or nights with our horses and mules will enjoy the spacious and well-appointed equestrian campground. Twenty camp spots each with electrical and water connections 'round out the usual amenities such as picnic tables, fire pits, etc. Even better, horse campers at A.H. also have access to the main campground's shower facilities. No need to settle for a cowboy shower here.
The trails at A.H. are well maintained and include a bit of everything that the Peach State has to offer a rider. If the flat sandy areas of southern Georgia are your thing, you'll find them here and begging to be taken at a good clip. And if the rockier, more challenging areas of northern Georgia call to you, you'll find sections of that type of trail here as well. The twelve miles of horse friendly trails that circle, loop, and meander will keep riders interested for as long as they wish.
If you're so inclined the park, named after the Vice President of the Confederacy, is also well known for its confederate museum, which contains one of the largest collections of Civil War artifacts in the world. It's a fascinating way to stretch your legs after a long day in the saddle.
Happy Trails! For more detailed information on A.H. Stephens as well as many other excellent horse riding and camping locations visit www.TrailMeister.com, the largest horse trail and camping directory in North America.