The BearVault – A Review
The BearVault – a better way to deter bears. Like many horse campers when I first started packing into areas with food storage regulations, I went with IGBC certified bear resistant hard sided pannier boxes for packing; generally known as "bear boxes".  These bear boxes are heavy, cumbersome, leak water, and are a pain to tie on. There's a better way. The BearVault.
DID YOU KNOW? There's an official bear-resistant certification process that takes place at the Grizzly & Wolf Discovery Center in Montana. The Discovery Center has a protocol for testing equipment that involves filling a bear resistant container with tempting foods. If the container can keep the bear out for at least an hour it passes as "bear-resistant" and receives its certification.
The BearVault
We had the opportunity to try the BearVault model BV500 and it's changed our feelings on bear resistant equipment.
Three Big Pluses:
Lighter – At just over 2lbs, empty, the BearVault is easy to move around and won't overload your pack animals.
Easier – Fits inside whatever packing system you already have, from manty loads to soft sided panniers bags to hard sided boxes. The clear design also allows you to see what's inside. No more rummaging.
Inexpensive – Sells for well under $100.
What is a Bear Canister?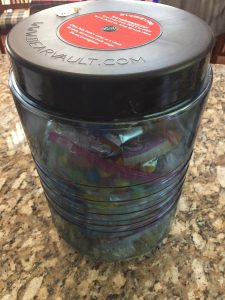 Sometimes also referred to as a "bear box", a bear canister is a sturdy container used as a physical barrier to protect your food and scented items from bears and other "mini bears" such as chipmunks and raccoons.
Bears are known to have one of the best senses of smell on the planet – 7 times better  than dogs. They've  have been documented tracking animal carcasses from 20 miles away.  Improperly stored your dinner doesn't stand a chance.
Protecting your food is both important to you and the bear. Once a bear accesses a human food supply, the bear can grow dependent. Many of these "problem" bears end up being destroyed. As the saying goes, "a fed bear is a dead bear". A BearVault can save your trip and a bear's life.
BearVault Specs:
Weight: 41 oz / 1.162 kg
Capacity: 11.5 liters / 700 cubic inches
Material: Polycarbonate
Dimensions: 8.7 x 12.7 in / 22.1 x 32.26 cm
Color: Blue
Transparent: Yes
Tools required to open: None
MSRP: $79.95 – To purchase a BearVault – https://amzn.to/35EncNP
BearVault Features:
IGBC approved for grizzly and black bears
The opening provides full access for loading, unloading and finding items
Patented design to allow for opening and closing lid without tools
Transparent polycarbonate housing resists impacts without shattering
The BearVault in Use:
We used this can for four different Wilderness outings, totaling 21 days. During each trip we packed enough food for two people to last at least 5 days and had room left over. With its clear plastic construction I didn't have to unpack the can every time I wanted to find something.
It's waterproof! No worries about the container filling up with water during a storm.
The BV500 makes for a good camp chair.
Overnight food protection can be a long and nuanced conversation. There are multiple techniques to use; regulations vary widely by area; and misinformation and poor practices are abundant. For us making using ear resistant storage devices is a good idea regardless of where we may find ourselves. If not for the bear then for protection against the "mini bears" such as chipmunks, mice, squirrels, racoons, and other small animals that take up residence in popular front country and back country campsites.
For more information on the BearVault – https://bearvault.com
To purchase a BearVault – https://amzn.to/35EncNP
Disclosure. I strive to offer field-tested and trustworthy information, insights, and advice. I have no financial affiliations with or interests in any brands or products, and I do not publish sponsored content
Help Me Help You
This website is supported by affiliate marketing, whereby for referral traffic I receive a small commission from select vendors like Amazon, at no cost to the reader. To purchase a BearVault – https://amzn.to/35EncNP 
The biggest help is when you use my Amazon links – https://www.amazon.com/?tag=thetrailheaco-20&linkCode=ur1when you purchase anything through Amazon.  It costs you nothing, and is this site's biggest source of support.