Interested in having TrailMeister spread YOUR Message during our Clinics?
For the 2019 clinic season, TrailMeister will again be thrilling audiences across the country.
TrailMeister Clinics Are Incredible Face-To-Face Marketing Events where we'll distribute your literature during our clinics and from the always busy TrailMeister booth.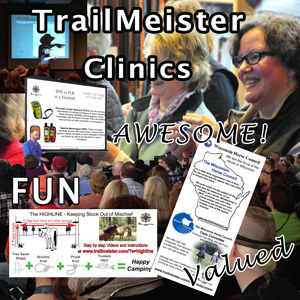 Start having TrailMeister work for YOU by spreading YOUR message during our clinics across the nation.  To discuss how your business can make a splash with horse owners, please contact us now or feel free to call at (513) 374-9021.