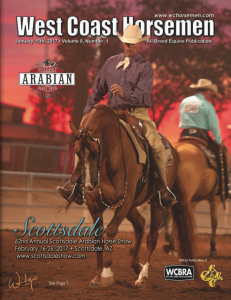 As published in the January issue of
West Coast Horsemen Magazine
Cuyamaca Rancho State Park, Julian, California
On the Web: https://www.trailmeister.com/trails/cuyamaca-rancho-state-park/
Trailhead Coordinates: 32.970311, -116.563279
Forty miles east of San Diego, nestled in the San Diego Mountains you'll find Cuyamaca (pronounced Kwee-ya-mak-a) Rancho State Park as well as a myriad of wild aster, indian pinks, and penstemon blooms as you ride through pine and chaparral on well over a hundred miles of trails in every combination of loop size and difficulty level. With Southern California's perfect climate and the park's elevation, ranging from 3,200 to 6,000 feet, riders here are blessed with generally wonderful weather and year 'round riding opportunities. From the mountain tops you'll have unparalleled views of the Pacific coastline to the west and desert country to east that beckon you further afield.
Access to the abundant trails is easy thanks to multiple access points for day riders as well as several well-appointed equestrian camping areas.
There are two horse friendly camping areas at Cuyamaca including the large Los Vaqueros group camp with centrally located corrals, and the new Green Valley family horse camp. Regardless of which camping area you're visiting keep in mind that this is a very popular place and reservations are highly recommended for campers of all types.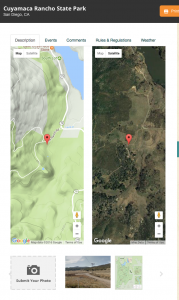 The newest horse camping facility, the Green Valley family camp, has fourteen family campsites and all the amenities except electricity. Popular trails that are easily accessed from Green Valley are the Monument Trail and the Arroyo Seco Fire Road. This new horse camp is located adjacent to the popular Green Valley Campground, which is rated as one of the ten best campgrounds in California, and is used by campers of all types.
For those that don't have time for camping with their horses or mules, Cuyamaca does include day use staging areas where you can park, saddle up and ride out.
On the southern edge of Cuyamaca Lake you'll find the Hual-Cu-Cuish (locals refer to it as the "old boy scout camp") day use area. Another day use spot is the Sweetwater horse parking area that is located north of the Green Valley Campground. It offers an immense parking area capable of holding many truck and trailer rigs. A third day use area, the Merigan trail head, is located on the far southern end of the park.
As you ride throughout the numerous miles of trails, enjoying the magnificent vistas of mountain ranges, Pacific coastline, lakes, streams and more, you'll also notice the charred remains of what was once a beautiful pine and oak forest. Although devastated in a 2003 wildfire, the trails have been restored through the continuing efforts local trail advocacy groups including the Cuyamaca Rancho State Park Interpretive Association (CPSIA) a multi user organization supporting the park. While the semi-charred landscape is an eerie reminder of the wildfire threat in this region, the vibrant re-growth and greenery highlight the resiliency of nature and the hard work of the groups that maintain this wonderful trail system.
Until next month for more information on these and other equestrian riding destinations throughout the U.S. please visit www.TrailMeister.com for free trail maps and fully validated trail and trailhead information.