What's in your Emergency Toolkit?
FREE PRINTABLE EMERGENCY TOOLKIT CHECKLIST
Not planning ahead is planning to fail.
Things happen and being able to handle minor inconveniences on your own can keep you on the trail and your trip without having to call for help. Just about anything in your truck, trailer or tent that can snap, crack, rip loose, tear, bend, leak, spark, or fall off will do exactly that—and always when you're out enjoying a trail ride 40 miles from nowhere and 10 miles from the nearest cell phone reception.
The whole trick to maintaining inner tranquility and not letting a mini disaster spoil your trip is to have a well-equipped emergency toolkit on hand. It should contain basic items that can help you deal with everyday problems and annoyances.
Sure, you could call your roadside assistance company and wait for an hour. Or, you could prepare for the worst, and be back on the road in 10 minutes.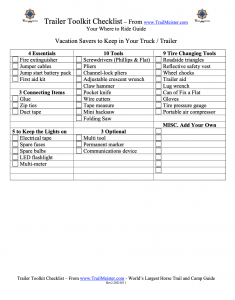 What to Keep in Your Traveling Emergency Toolkit
No matter how well constructed your horse trailer is, eventually something will have to be tightened, loosened, pounded flat, pried or cut. Here are some mostly inexpensive yet important items that newcomers and veteran campers alike should pack for every trip, both big and small.
FREE PRINTABLE EMERGENCY TOOLKIT CHECKLIST
The 4 Essentials:
The 10 Tools:
3 Things to Keep Stuff Together:
While glue won't mend a broken heart, it'll fix lots of other things and can keep a situation from going from bad to worse.
5 Things to Help Keep the Lights On:
Nothing is more aggravating than trailer lights blinking on and off on their own. Or having a police officer pull you over because a brake light is out. That's why having a few select electrical items in your well-equipped traveling toolbox can be unbelievably handy.
9 Tire Changing Tools:
3 Miscellaneous Items I Won't Go Without:
My goal with all of these items is to be able to make a temporary fix to get me home if something were to break and have a reliable way to call for help if I cannot make the appropriate repairs.
FREE PRINTABLE EMERGENCY TOOLKIT CHECKLIST
So there you have it…the ultimate basic emergency toolkit. 34 must-have vacation savers, and they all fit in a standard tool bag.
As always for more practical information on trail riding and camping with horses give us a visit at www.TrailMeister.com, it's also the world's largest guide to horse trails and equine camps.