Garmin GPSMAP 64 Review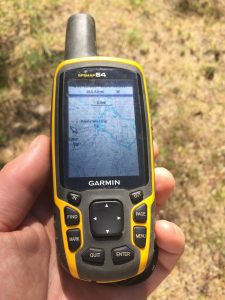 We get a lot of questions about GPS units. Which do we like, which would we recommend, etc. Here you go; Seven reasons why we like the Garmin GPSMAP64 GPS receiver.
We've used Garmin brand GPS units for years because they work quite well for our purposes. The handheld Garmin GPSMAP 64 has been around since 2014 and we've been using ours for about the same time.
What We Like:
Low cost. The plain jane GPSMAP 64 has what we need without any of the "extras" that ramp up cost and confusion. If you need a built in camera, wifi connections, or barometric altimeters there are other devices.
The unit features high-sensitivity GPS and GLONASS receiving in conjunction with a quad-helix antenna which keeps your coordinates while hiking through deep cover and valleys.

NOTE: GPS receivers that use GLONASS technology lock onto your position about 20% quicker than those that don't, and the Garmin 64 maintains its location even in heavy cover or deep canyons.

We prefer buttons to touch screens for ease of use with gloves and feel that this GPS is by far the best of the buttoned devices. While this makes the device slightly bulkier, it's useful for all weather conditions as the device can still function even if you are wearing thick gloves.
The unit has a display that measures 2.6 inches diagonally and offers a color screen that is easy to see and use in bright sunlight.
It's lightweight and portable. Weighing in at 9.3 ounces including battery and measures 2.4″ x 6.3″ x 1.4″ and features an IPX7 water proof rating.

NOTE: What is IPX7 ? – You can drop your device in water up to 3 feet deep  for up to 30 minutes and your your device is still going to work. Try THAT with a phone!

The unit uses 2 AA batteries that last for about 16 hours of continuous usage.
Built in 4GB memory and USB compatible. We save lots of ride tracks and regularly import new base maps from Caltopo.com.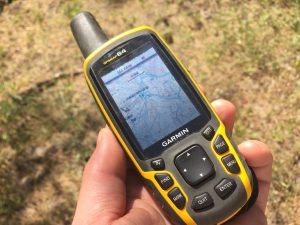 We hope this  Garmin GPSMAP 64 Review helps answer some of your GPS related questions about what devices we like and why we like them.
For more reviews of trail riding and horse camping equipment visit https://www.trailmeister.com/category/reviews/