Gear Up – Wet Weather Doesn't Have to Dampen Your Enthusiasm For Trail Riding
As Published in the January, 2011, issue of The Northwest Horse Source.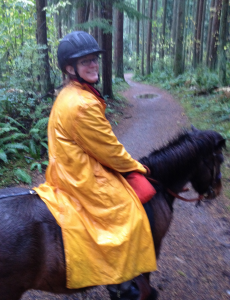 Summer's bluebird skies and bright sunshine have given way to lead gray skies and rain, lots of it. Rather than park the horses, and mules, for the next few months use these common sense Tips to stay dry and warm while you're on the trails. Effective rain gear will be your key to continued, and comfortable, riding through the unpredictable and often rainy weather of winter and spring. Well prepared backcountry trail riders carry quality raingear with them on every ride regardless of the current or forecasted weather. From the top down think breathable, waterproof, light, and layers, for this set of protective gear that may be donned then taken off and stored multiple times a day on a trail ride. Features to look for include quality construction, breathability, and pack ability.
Hat – The traditional cowboy hat is hard to beat for rain and sun protection. The wide brim does an excellent job of funneling water away.  Though most good quality western hats are water resistant you should have a waterproof cover to help preserve the hat and prevent a wet head. Those of us that wear helmets will have a harder time, because without a wide brim that encircles the helmet some rain will make it down your neck. Plastic covers are available for your helmet and will do a good job of keeping the top of your head dry.
Coat – Forget about the traditional oilskin drover's jacket. Heavy oilskin fabrics are great for chaps but are too restrictive and hot for use as a coat where freedom of movement is essential for comfort. For your top layer go with a lightweight, breathable, material that allows you to move, while staying dry.  There are a variety of options in this category from high tech Gore-Tex to lightweight coated fabrics such as those used in   Wyoming Traders' Fish Slicker.
Gloves – When you're riding for hours on end you have enough to worry about without having cold and wet hands; therefore a good pair of waterproof gloves is a must. Lightweight gloves allow for good feel of the reins and offer dexterity for manual tasks. While leather is the material of choice when it's dry, avoid leather on rainy days and instead try a thin waterproof neoprene glove. You'll find that your hands will stay dry and warm.
Chaps – Keep your legs dry with a hard wearing and waterproof set of chaps. Originally devised to protect working cowboys from the elements, chaps are a valuable additional to the trail riders gear kit. While many styles of chaps are available the "shotgun" or stove pipe types that wrap completely around the legs retain heat much better than the batwing styles. The closer fit is also an advantage in windy conditions. You'll want a heavier material, such as leather or oil cloth, to stand up to trail hugging briars and brush that will quickly ruin lesser fabrics. Oil cloth chaps such as those by Guardian Hawk Enterprises, Filson and Outback Traders are lightweight, easy to roll up and stow, and will hold up to the toughest of briars.
Tapaderos – Also known as Devonshire Boots to those who ride English are simply stirrups with a hood covering the front of the stirrup. Hooded stirrups serve several purposes that make them well suited for riding in foul weather:  They provide protection from rain and wet brush and are a personal favorite for cold-weather riding. They also deflect brush to help keep the rider's foot from being pulled from the stirrup; and they prevent the rider's foot from going through the stirrup, helping to avoid potentially serious accidents.
Enjoy your wet weather rides!