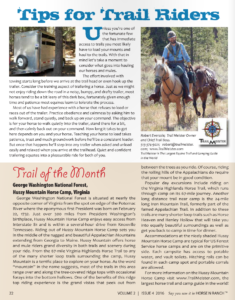 Horse N Ranch – May 2016 Issue
Trail Tip of the Month from the TrailMeister
Unless you're one of the fortunate few that has immediate access to trails you most likely have to load your mounts and haul to the trails. With that in mind let's take a moment to consider what goes into hauling our horses and mules.
The effort involved with towing starts long before we arrive at the trail head or even hook up the trailer. Consider the training aspect of trailering a horse. Just as we might not enjoy riding down the road in a noisy, bumpy, and drafty trailer, most horses tend to be a bit leery of this dark box, fortunately given enough time and patience most equines learn to tolerate the process.
Most of us have had experience with a horse that refuses to load or races out of the trailer. Practice obedience and calmness by asking him to walk forward, stand quietly, and back up on your command. The objective is for your horse to walk quietly into the trailer, stand there for a bit, and then calmly back out on your command. How long it takes to get here depends on you and your horse. Teaching your horse to load takes patience, trust and much groundwork before he'll be a consistent loader. But once that happens he'll step into any trailer when asked and unload easily and relaxed when you arrive at the trailhead. Quiet and confident trailering equates into a pleasurable ride for both of you.
Trail of the Month
George Washington National Forest, Hussy Mountain Horse Camp, Virginia
George Washington National Forest is situated at nearly the opposite corner of Virginia from the spot on edge of the Potomac River where the eponymous first President was born on February 22, 1732. Just over 300 miles from President Washington's birthplace, Hussy Mountain Horse Camp enjoys easy access from Interstate 81 and is within a several-hour drive from Knoxville Tennessee. Riding out of Hussy Mountain Horse Camp sets you in the middle of the rugged and beautiful Appalachian Mountains extending from Georgia to Maine. Hussy Mountain offers horse and mule riders grand diversity in both trails and scenery during your ride. From the 67-mile Virginia Highlands Horse Trail to any of the many shorter loop trails surrounding the camp, Hussy Mountain is a terrific place to explore on your horse. As the word "mountain" in the name suggests, most of the trails in this area range over and along the tree-covered ridge tops with occasional forays into the bottom hollows. One of the benefits of this ridge top riding experience is the grand vistas that peek out from between the trees as you ride. Of course, riding the rolling hills of the Appalachians do require that your mount be in good condition.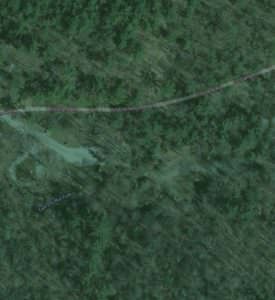 Popular day excursions include riding on the Virginia Highlands Horse Trail, which runs through camp on its 67-mile journey. Another long distance trail near camp is the 24-mile long Iron Mountain Trail, formerly part of the famed Appalachian Trail. In addition to these trails are many shorter loop trails such as Horse Heaven and Henley Hollow that will take you into equally beautiful surroundings as well as get you back to camp in time for dinner.
Accommodations at the nicely shaded Hussy Mountain Horse Camp are typical for US Forest Service horse camps and are on the primitive side. Each campsite has access to potable water, and vault toilets. Hitching rails can be found in each camp spot and portable corrals are allowed.
For more information on the Hussy Mountain Horse Camp visit www.TrailMeister.com, the largest horse tail and camp guide in the world!