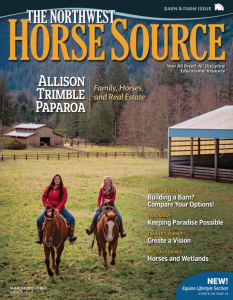 As Published in the Northwest Horse Source issue of  Mar 2017 – Keeping Paradise Possible – Government Meadows Horse Camp
Paradise. For some that's an image of a tropical beach, for me it's a dirt trail that twists and meanders to a backcountry camp deep in the wilderness. It's a quiet solitude punctuated by the peaceful clip clop of hooves and the far scream of an eagle aloft. It's the sweet perfume of pine on a warm summer day. It's the companionship of a trusted horse who will faithfully take you home.
Unfortunately, in a growing number of cases paradise has been padlocked.
In only a few short generations we've "improved" a lot of backcountry and rural areas into suburbia and shopping malls. Trail Closed signs are both dreaded and unfortunately frequently encountered. Lest we lose them, we'd better take care of the equine friendly country that remains.  Paradise needs protecting.
You don't have to be a trail rider, or even have your own horse, to recognize the importance of conserving horse trails. There are many things that each of us can do to preserve equine trails. Here are two easy ways that I have found to help keep paradise open.
Volunteer
It's not forest elves that are magically keeping your trails open. Budget cuts have slashed maintenance efforts on public lands. Most trail maintenance is done by volunteer organizations such as your local Back Country Horsemen chapter.
Organizations such as these are a loud voice for horse riders across the nation. They protect riding trails and wild lands, take volunteers out to maintain trails, and promote equestrian activities as a healthful and enjoyable way to explore the outdoors.
You can help by joining these organizations. There are many great reasons to connect. To give back to your trails; the fun, the folks you meet, and the skills you'll learn along the way. Amazing, hard-working volunteers are why trail maintenance programs can accomplish so much for horse trails every year.
My first volunteer trail project was with the Tahoma Chapter of the Back Country Horsemen of Washington in 2009. I helped build a new section of the Pacific Crest Trail. Dozens of concerned and committed BCHW volunteers helped move ¼ mile of the PCT away from the side of a road. My volunteer experiences have been magnificent. Yours will be too.
Despite popular belief, the ability to enjoy horse trails is not free. Countless hours are spent meeting, planning, and advocating for every precious foot of trail that gets built and for every acre of open space that is preserved. It's a significant effort, undertaken by dedicated volunteers looking to improve communities and trail access for all. Whether you're new to trail riding, an endurance rider with thousands of miles under your belt or a back-country packer, one thing is unquestionable: none of these trails would exist if it weren't for volunteer groups that actively advocate for your right to ride them. 
Organize
Horse clubs are focal points for both social events and trail stewardship efforts. For me the biggest reason to join an equestrian club is for the comradery of people who have the same interests. Being able to talk about trail conditions, feed, training, etc. is priceless.
Don't have a local chapter of a Back Country Horsemen group nearby, or don't care for the one that is? Start a new one. These organizations are always looking for new members and new chapters. A quick google search for BCHW will put you in touch with someone who can help.
Here are four reasons to join, or start, a horse club. And quotes from those who have.
You'll meet like-minded people and make new friends
"Share activities with like-minded people both socially and out on the trails."
"The diversity of a club's membership allows members to ride and camp with others who have similar aspirations and at a whole range of experiences. It makes it easy to find people to ride with when their regular partner is unable to get away."
"There's a large group of us who don't just go out on club rides, we'll meet up on other weekends too – it's great to have lots of different people to go riding with."
"Looking for love?  I know lots of couples who met through horses!"
You'll see new places and do new things
"You can expand the scope of your own activities by taking part in those organized by more experienced members"
"A lot of clubs have a range of social events which complements the riding scene"
"If you want to go to a new trail area there's bound to be someone in the club who has already been and willing to give you info on the place"
"Many clubs offer training opportunities, however chaotic or informal, and there are always more experienced members around to provide guidance and help."
"Practical peer-to-peer coaching so that we all learn together"
"Knowledge transfer from more experienced members, a bit like an apprenticeship"
"As a new member I doubt that I'd have made the steps to ride outside the arena without the support of the club"
"It's more fun spending your day out with others.  And they can get great photos of you and your partner on rides too."
There are more benefits than just being a member of a club. There are new friends to be made, information to learn and most of all the comradery of people who get what it means to love horses and trail riding.
Please, don't wait until you're faced with a crisis before you get involved. Volunteer with trail projects, join a club that will help protect your trail access, and educate yourself and others on best practices.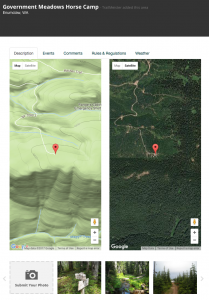 Government Meadows Horse Camp
Trailhead Coordinates:  47.084222, -121.403755
On the Web: https://www.trailmeister.com/trails/government-meadows-horse-camp/
The place where I was first introduced to what we as Back Country Horsemen do to preserve our trails. BCHW members spend a lot of time and energy maintaining this trailhead and the adjacent Pacific Crest Trail.  With multiple camp spots, highlines, and a vault toilet at the trailhead you can see why this is a popular access point into the Norse Peak Wilderness. The wilderness area begins a short ride to the south of camp over a well-maintained trail. The only thing that is lacking at the trailhead is easy access to water.
The Pacific Crest Trail (also known as the PCT or simply the Crest Trail) serves as the primary trail as it runs through the wilderness. A large network of secondary paths that branch off the PCT allow access into many of the more remote areas that are tucked into narrow drainages hidden below rockbound ridges that slice deeply into the surrounding mountain sides.
As I mentioned BCHW members are frequent visitors to this trailhead and for good reason. From other trailheads, the trip to the crest part of the PCT means hard work for our mounts. At Government Meadows, your truck will do most the work of gaining elevation. With a fresh horse at the trailhead, the journey south to Airplane Meadow (with its attendant airplane!)  and back can be easily accomplished as a day ride with good trail and inspiring views of white capped mountains, green ridges, and blue skies.  In places, it feels as if you could reach out and touch the towering peak of Mount Rainier.
Visitors to Government Meadows will notice is how well the area is maintained. Various chapters of the Backcountry Horsemen of Washington help support the Crest and supporting trails and are responsible for the park-like trail tread in many areas.