Wet? Cold? Looking for a way to stay warm and dry without chaps?
These Lap Robes will take care of you.
A lap robe is one way to keep you warm during cool weather, be it raining or snowing, for trail rides or warm-ups in the arena. The outer fabric is a rugged 600 denier Cordura that can handle the abuse of trail riding.
A microfleece liner on the inside is great for when the weather is cold. During especially rainy weather, the nylon robe can be used as a cover to keep your saddle dry before your ride, or during a break.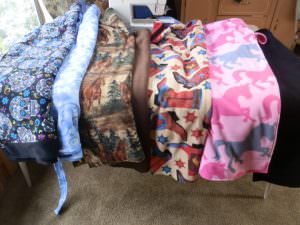 If the weather is simply chilly without rain the Lap Robes are available in a double fleece configuration with numerous patterns along with solid colors. The heavy fleece has plenty of loft to keep you warm during cold weather. During especially frigid weather both styles can be worn together for even greater comfort.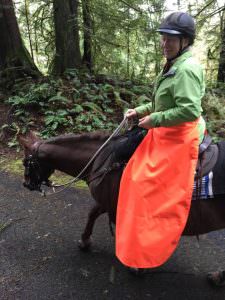 These lap rodes are serious business, hunters have been flocking to them to stay warm, dry, and visible in the forest. Waterproof lap robes are now available in hunter orange. And yes, these are also lined with warm microfleece.
The robe is easy on/off and has a wide, fully adjustable, velcro waistband that allows the rider to place the lap robe under or over the jacket. You can mount and dismount, with care, wearing the lap robe although it's easier to drape it over the horse's neck, mount up, and then easily wrap it around you and secure the robe with the velcro strap.
As a bonus, the length of the robe is such that it covers your boots and stirrups to help keep your toes warm and dry, kind of like tapaderos (or Devonshire boots for the English crowd) that go away when you no longer require them.
For more information on Lap Robes by Martha please contact Martha directly at Lap Robes by Martha, her email address is laprobes@comcast.net