LIFE FLIGHT NETWORK – As published in The Trailhead News

We've all heard the stories. "A horseback rider found himself in trouble after falling from a horse and had to be airlifted to safety."  A few of us have been the subject of the story and most of us have no idea how any of it works. Myself included. To remedy that I recently took advantage of an opportunity to talk with the folks at Life Flight Network, the air ambulance service that covers the Pacific Northwest and Intermountain West. To say my awareness has been elevated is an understatement.
I met Dominic Pomponio, Regional Director of the Life Flight Network at their base in Spokane, WA where he educated me on what it is that Life Flight Network does and how they do it.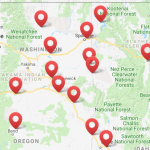 Founded in 1978 (Happy 40thby the way!) the Life Flight Network is a medical transport service that brings the Intensive Care Unit to you when you need it. They deliver highly trained Flight Nurses, Flight Paramedics, pilots, and aircraft to provide air ambulance transportation to seriously ill and injured patients. With 23 bases across Washington, Oregon, Idaho, and Montana housing 23 helicopters and 7 airplanes, Life Flight Network has the assets required to get you where you need to be in an emergency.
During my visit, Dominic had me trade in my mule, for a Koala. A Leonardo AW119 "Koala" that is. This beast travels at 175 MPH, day or night, and drinks jet fuel. And unlike Ruger it arrives complete with a mobile intensive care unit and the crew to keep you going until you arrive at the hospital. I won't say the Koala is better than my mule but it's certainly better equipped!
After the tour, we talked at length about the specifics of how Life Flight Network operates. Here are a few of the questions we talked about.
Q – What happens from the point an accident happens to the patient arriving at hospital?
Injury occurs
Emergency message is sent via InReach, SPOT, Personal Locator Beacon, 911, etc.
Message is received by local first responders such as law enforcement, Search and Rescue agencies, and fire departments. These first responder organizations assess the situation and the needs of the patient before contacting Life Flight Network. (NOTE: If you need emergency medical care call 9-1-1 or press the SOS button on your locator beacon. Do not call Life Flight Network directly.)
8 minutes after receiving the call Life Flight can have aircraft in the air and on the way to the person in need.
Life Flight Network arrives on scene assesses the patient, secures them in the aircraft, and departs for the nearest hospital capable of rendering suitable care.
Q – I've heard that lifesaving flights can come with life changing bills. Who pays for Life Flight Network?
A – For people who think they are protected from health care bills because they have insurance, the cost of an ambulance ride can be a shock. When someone needs an air ambulance, the priority is getting them needed care as quickly as possible. We, as patients, don't always know who is going to pick us up or if the ambulance is covered by our insurance. That can lead to enormous bills.
Life Flight, like many other air ambulance companies, offers membership programs as a protection from those big bills. For an annual fee of $65 patients who use Life Flight Network's services face no cost beyond what their health insurance pays. Members of Back Country Horsemen of Washington have a special group rate of $50. A Life Flight membership covers not only you, but also your spouse or the dependents you claim on your income tax return. Visit https://www.lifeflight.org/membership/for more info.
Q –Patients can't always know which provider is picking us up, does Life Flight Network have reciprocity agreements with other air ambulance services?
A – Yes, Life Flight has reciprocal partners across the Pacific Northwest and even into Nevada and California. A full list of their partners can be found at www.lifeflight.org.
Q- Is Life Flight Network just for the wilderness?
A – No. Life Flight Network is for whenever air transport is determined to be the most effective and medically necessary means to get you to the hospital. Whether it's the backcountry, your front yard, or from a smaller hospital to a larger one, they can transport you to help.
Well, I've managed to burn through my allotted word count already! I hope that this has answered your questions about Life Flight. For more info on air ambulances visit www.TrailMeister.com.