Own Your Adventure – Making your own trail maps. As published in the January 2020 issue of Western Mule Magazine
Navigation is one of the most important frontcountry and backcountry skills, and the most liberating. It allows you to pilot your own journey, rather than being a passenger.
In recent years maps, and the way we use them, has dramatically changed. Going from point A to point B in our everyday lives has turned into speaking into our phones and receiving turn by turn directions. Technology has greatly expanded our navigation abilities especially for street directions. Trail directions and planning routes have unfortunately been another story. Until now.
In the past planning a ride meant buying a printed topo map and using a compass to triangulate my position on the trail.  Of course it's hard to use a map if you can't find one and finding worthwhile trail maps can be a challenge.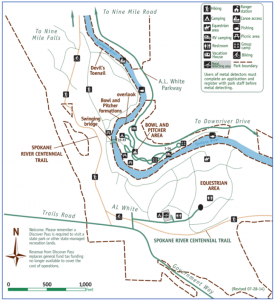 Here's an image of a published trail map for a riding area that I enjoy (Riverside State Park, WA)  – Can you see where the hills are? What about steep ravines? Heck, it's even missing most of the trails. Could you really use this to effectively navigate unfamiliar terrain? (Illustration:  Washington State Parks)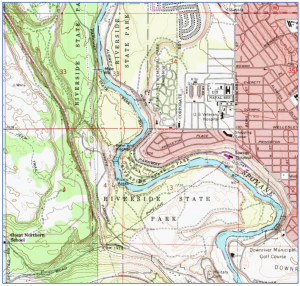 Here's a standard USGS map of the same area – It's even worse. There's zero information on trails. Again, this isn't something you'd want to be stuck with in an emergency. (Illustration: USGS)
Fortunately, there's a solution to this problem. It's called making your own trail maps. I've been using an online resource for the past few years and it's been a game changer for planning adventures both near and far.
CalTopo (Caltopo.com) is an online tool that allows you to make custom topographic maps of anyplace in the U.S. It has become an invaluable tool for planning trips, especially backcountry travel.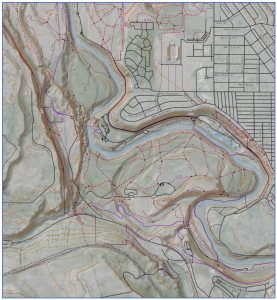 Here's a simple map that took me just a few minutes to build online in CalTopo. To build it, I browsed through the available topo map base layers until I found the one that worked best for me. I was even able to add a hill shading layer which makes short work of deciphering contour lines.
Saving this map as a PDF, allows me to both print a hard copy AND export the same map to my phone, giving me a backup system and an easy to use reference point.
Riders wanting an accurate, reliable, and free navigation tool can easily build maps using CalTopo. Once you've created your custom trail map. You can—and should—print these out as a non-battery-based, unbreakable backup.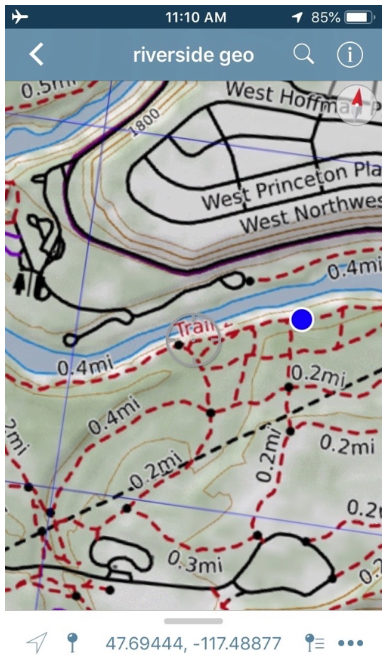 Importing these maps into a simple navigation app, like Avenza Maps, on your smartphone gives you a simple user experience, combined with very useful in-depth information. Remember to share all this information with your riding partners, in the event you part ways during the ride, and with your significant others that stay home, in the event of an emergency.
The end result is as easy to use as Google Maps—just open the Avenza app, and a blue dot shows your location. But instead of city streets, it's real navigational data such as contour lines, trail locations, slope shading and whatever else you want, all working whether or not you have cell signal.
Avenza Maps is an app (iOS and Android) that uses your phone's built-in GPS to locate you even when you're out of range of a cell network. It works without cell coverage. Maps used by Avenza are special PDF's that contain geospatial information. Using CalTopo you can create these special maps to open within the Avenza app.
That this much navigation information can be accessed so easily is unprecedented. That it can be free is even better!
For more information on CalTopo visit caltopo.com For most riders CalTopo's free plan will be enough to get them down the trail. For more info on the Avenza Maps app visit https://www.avenza.com/avenza-maps/. Again, the free plan gives me plenty of options.
As always for more information on trail riding and camping with horses visit www.TrailMeister.com the world's largest and most accurate database of horse camps and trails!