Whether it's a cell phone, satellite messenger, or GPS device, modern technology is ubiquitous in all our endeavors. Whether you're a seasoned equestrian or a beginner, preparing your tech for a trail-riding adventure is crucial for a safe and enjoyable experience. Trail riding offers a unique opportunity to connect with nature, bond with our equine companions, and explore breathtaking landscapes. To make the most of your ride and be well-prepared for any unexpected challenges, here are some valuable tips to ensure your devices are ready before you saddle up:
Top 6 Tips to Prep Your Tech:
1. Verify Your Riding Route and Plan Ahead: Before embarking on your horse-riding journey, it's essential to verify your riding route. While some riders may prefer well-known trails, others might seek the thrill of discovering new paths. In either case, checking with experienced riders, local equestrian clubs, websites (such as www.TrailMeister.com), and land managers covering the area to get accurate trail information, riding regulations, and potential hazards is crucial. Understanding the terrain and conditions will help you plan accordingly and ensure a safe ride.
2. Utilize Multiple Sources of Information: Trail apps can be valuable tools, offering trail maps and community reviews. However, it's essential to remember that not all trails are equally well-documented. To ensure accuracy and a comprehensive understanding of the riding route, cross-reference app data with local experts, fellow riders, or reliable sources, such as www.TrailMeister.com. Speaking with those familiar with the area can provide valuable insights and enhance your riding experience.
3. Download Maps Offline: As any experienced rider knows, venturing into rural or remote areas means you might lose cell service. To stay on track during your ride, download offline maps or use dedicated riding trail apps that offer offline access. With offline maps readily available, you can confidently navigate the trails without an internet connection, ensuring you stay on course and avoid getting lost. Be sure to carry hard copies of your trail maps in case your phone battery dies.
4. Carry a Personal Locator Beacon: While horse riding can be a fantastic adventure, it's essential to prioritize safety. Always inform someone you trust about your horse riding plans, including your intended route and estimated return time. In case of emergencies, consider investing in a personal locator beacon (PLB). A PLB is a compact and lightweight device that, when activated, sends a distress signal with your GPS coordinates, enabling rescue services to locate you quickly. It can be a lifesaver in remote riding areas where cell reception might be scarce. Here's more info on communications devices – https://www.trailmeister.com/communication-devices-above-and-beyond-cellular/
5. Preserve Battery Life: GPS tracking your riding route can rapidly drain your phone's battery. Bring a portable power bank to keep your devices charged throughout the ride to avoid being stranded without communication or navigation capabilities. Additionally, consider adjusting your phone settings, such as dimming the screen and closing unnecessary background apps, to conserve battery power.
6. Protect Your Device: Don't carry a naked phone! Like any outdoor activity, horse riding can be unpredictable, and accidents can happen. Invest in a sturdy and shockproof phone case to safeguard your phone from potential damage due to falls or impacts. Pick a case designed for rugged outdoor use to ensure maximum impact and water protection for your device during the ride.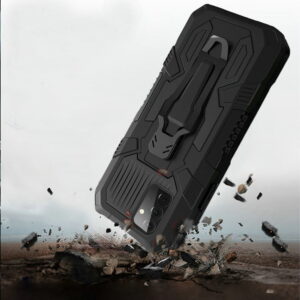 By taking these precautions and having your tech well-prepared, you can focus on the joy of trail riding. The key to a successful and memorable experience lies in being prepared. This allows you to forge cherished memories with your equine partner and love your time in the saddle. Happy riding!
For more practical information on trail riding and camping with horses and the world's largest and most accurate guide to horse trails and camps, visit us at www.TrailMeister.com.