Itchy pony butts want scratching and said ponies will rub on anything handy including your expensive barn flashings. Cynthia at Scratch n All sent us some samples of their Scratchnall pads. We ALL love them. No more sharp edges or splinters in horse hide and no more damage to the barn either! I think it's a win-win for all involved.
We went from damaged barn doors and flashings to happy contented critters with the Scratch n All pads.
We installed 4 pads ( each pad is 6 x 5 inches) that interlock together to make a safe scratching spot of any size that you desire.
Installation of the durable pads is a breeze with the included instructions and stainless steel screws.
Pads easily bend around corners and the notch in the rear lets water run through so no worries about damage to the mounting surface.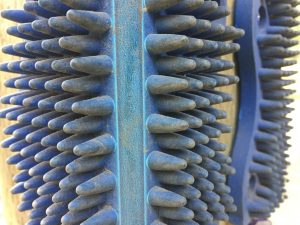 The small nubs on the pads are flexible which provides a comfortable, satisfying and non-irritating scratching surface for the animals.
Here's a link for more info! https://scratchnall.com

For more reviews of trail riding and equine camping tools visit https://www.trailmeister.com/category/reviews/