ICE ICE Baby…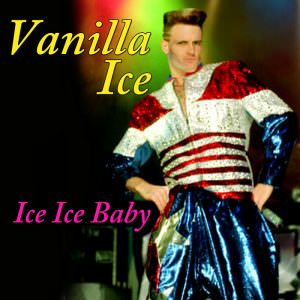 No not Vanilla Ice. Ice as "In Case of Emergency"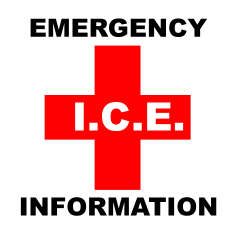 I teach Emergency Preparedness for horse and mule riders at equine events across the country and it's amazing how many people don't think about equine identification.
Fortunately, Sierra View Ranch has thought about the topic. A lot. Their line of "In Case of Emergency" or I.C.E. products (including the I.C.E. Halter, I.C.E. Clip-on tag. I.C.E. UltraLite, and the ManeStay) has been created with one goal in mind. To help reunite you and your animal in case a ride becomes "eventful".
Here's a short video!
The beauty of all I.C.E. products is in the highly visible "I.C.E. INFO INSIDE" tag that opens to reveal info on the animal.  These ingenious horse labels are a fabulous way to keep your contact information on your animal in case the two of you become separated.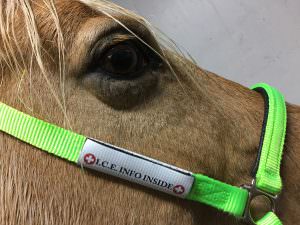 The I.C.E. Halter
We tried the Standard I.C.E. Halter in a bright and cherry lime green color. There are 16 different color options in case you're not feeling quite as adventurous.
The ¾ inch nylon webbing halters fit neatly under bridles and include a comfy padded noseband.
The Standard version lacks a throat latch which for me makes it less than ideal because leading or tying isn't a good option. Fortunately, the full and breakaway I.C.E Halters include this feature.
Hey Sierra View! Any chance of a rope halter version?
The I.C.E. Clip-on keeps the high visibility I.C.E. tag, and bright nylon tag and includes a scissor snap to easily attach the Clip-on on anything that you might want to keep track of. I generally put mine on a D ring on the saddle.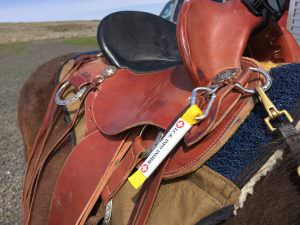 The I.C.E. UltraLite takes the ideas behind the Clip-On and puts the sturdy scissor clamp on a diet. The UltraLite weighs well under an ounce and uses an aluminum carabiner for securely attaching the tag to whatever you want.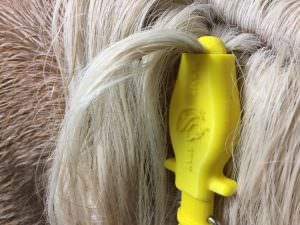 The I.C.E. ManeStay does away with the need for a halter to affix emergency ID on your animal.  The ManeStay does just what its name implies. It Stays On the Mane (or tail).  Clipping securely to a portion of hair the ManeStay has proven to be quite dependable and has remained in position for a week without shifting. I believe it would have stayed on longer but he needed a good grooming session!
Regardless of the color all of Sierra View Ranch's I.C.E. products are simple, and easy, ways to maintain a Portable Peace of Mind when you're riding.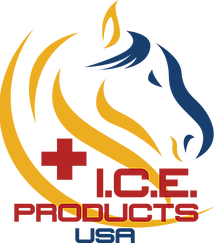 You can learn more about these products at the Sierra View Ranch General Store http://www.sierraviewranchgeneralstore.com.