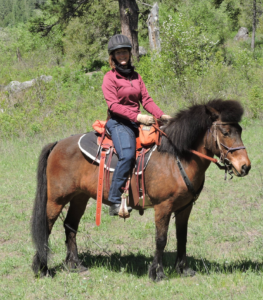 Are you searching for a western look jeans, but with the features of English breeches?  Smooth Stride jeans have it.
The dark blue denim has the stretch found in breeches that give you comfortable flex and movement. The jeans come in a few varieties, full seat or knee patch with a micro suede like material, similar to breeches, and they also come without for a more western look. The full seat style has matching thread to blend the micro suede and denim, at a distance they look like regular jeans. The jeans are boot cut, but aren't too heavy to tuck into tall boots or half chaps.
High tech skill was used to create a contoured waist band to nearly eliminate gap while seated. The inner waist band is wide and smooth against your skin, and there are outer belt loops if you want to add some belt bling.
A handy convenience for all riders is the cell phone pocket on the thigh. It's large enough to hold the average smart phone as well as the larger iPhone 6. Although there aren't back pockets on these jeans, the deep front pockets have plenty of capacity for cash, keys and lip balm.
Best of all, these are jeans without inner seams! Regular jeans with bulky inner seams tend to pinch during long days in the saddle.
These are high performance jeans, but Smooth Stride did put some fun into their sizing system. Instead of a typical size numbers, the sizes are horse related such as the "Paint" size. After you measure your waist and hips, just use their detailed chart to find a fit. The length comes in two choices.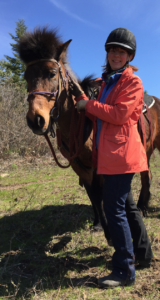 When ordering jeans, go for the colt package, in which you pick the two closest sizes, then Smooth Stride mails you both jeans and whichever pair you don't keep, you return with a pre-paid shipping label. What a great service!
The washing instructions are like any others jeans, so no special handling required. Although I like to turn my jeans inside out for washing/drying.
I've ridden in and washed my full seat Smooth Stride jeans a few times already and they look and feel as good as when I first received them. My favorite features are no inner seams, the stretch denim, the contoured waist band and the cell phone pocket.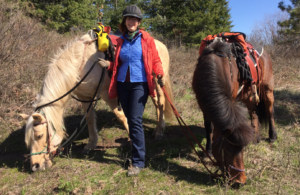 With these features and the easy sizing & ordering system, Smooth Stride jeans will become the jeans that get you in the saddle.
For more information on, and to order your own, Smooth Stride Riding Jeans click on the Smooth Stride logo.