Caesar Creek State Park - TrailMeister added this area
Lebanon, OH
Riders have logged 39.91 miles & 11.15 hours here.
Date
Rider
Hours
Minutes
Miles
GPS
Photos
Rating
23 Aug 2014
Anonymous
4 h
53m
18.46
✔

★

★

★

★

★

04 Oct 2014
Anonymous
1 h
23m
2.99
✔

★

★

★

★

★

23 Aug 2014
Anonymous
4 h
53m
18.46
✔

★

★

★

★

★
Caesar Creek is highlighted by clear blue waters, scattered woodlands, meadows and steep ravines. At least that's what the Park Service has to say about it. Equestrian Reviews of this 3,741-acre park offer more mixed comments with common refrains of "Flat and Muddy" being heard. Regardless; with 30 miles of trails open to horse and mule use and a dedicated equestrian.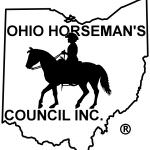 Many horse trails throughout Ohio have been established and are maintained by volunteers of Ohio Horseman's Council in cooperation with landowners.
The Ohio Horseman's Council Inc. is a non-profit corporation organized in the state of Ohio. We advocate for the preservation of bridle trails throughout the state as well as the rights of equine owners.  OHC has more than 4,500 members in 70 county chapters representing all ages of rider, breeds of equine and riding disciplines. Click here for more info on the Ohio Horseman's Council.