Fox Creek Horse Camp - 1trailmeister added this area
Chilhowie, VA
Directions

×

Driving Directions

Click the icon for directions in google.

From I-81: Take exit 45 at Marion, VA. Then take St. Route 16 South for 17 miles to Troutdale, VA. Turn right onto VA 603 (Laurel Valley Road) and follow it for approximately 4 miles to the campground on the right.

☆☆☆☆☆
Directions

×

Driving Directions

Click the icon for directions in google.

From I-81: Take exit 45 at Marion, VA. Then take St. Route 16 South for 17 miles to Troutdale, VA. Turn right onto VA 603 (Laurel Valley Road) and follow it for approximately 4 miles to the campground on the right.

☆☆☆☆☆
No routes found... Be the first to submit one.
Fox Creek offers riders over 100 miles of trails to explore along with the Virginia Highlands Horse Trail which passes through the camp and provides very picturesque riding.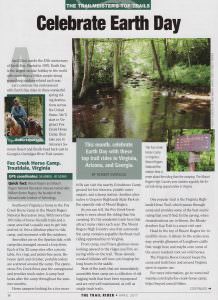 Read more about Fox Creek in the April 2017 issue of Trail Rider Magazine!