Haney Meadow - Ken Wilcox Horse Camp - 1trailmeister added this area
Ellensburg, WA
Riders have logged 47.08 miles & 29.20 hours here.
TOP TRAIL RIDER: 1trailmeister logged 28.58 miles.
Printable Map
Smart Map
Directions

×

Driving Directions

Click the icon for directions in google.

Access the Ken Wilcox Horse Camp at Haney Meadow by taking highway 97 to Blewett Pass then head south on Forest Service Road 9716 to Forest Service Road 9712. You'll be on Forest Service roads for about 10 miles and it will take you approximately an hour to cover this distance.

★

★

★

★

☆
Date
Rider
Hours
Minutes
Miles
GPS
Photos
Rating
26 Jul 2017
1trailmeister
Ride Notes
2 h
57m
3.73
✔
✔

★

★

★

★

★

25 Jul 2017
1trailmeister
Ride Notes
3 h
59m
5.4
✔
✔

★

★

★

★

★

24 Jul 2017
1trailmeister
Ride Notes
3 h
53m
6.21
✔
✔

★

★

★

★

★

30 Jul 2016
1trailmeister
Ride Notes
5 h
48m
9.63
✔
☆☆☆☆☆
29 Jul 2016
1trailmeister
Ride Notes
2 h
8m
3.61
✔
☆☆☆☆☆
01 Aug 2015
Anonymous
Ride Notes
4 h
24m
6.99
✔

★

★

★

★

★

31 Jul 2015
Anonymous
Ride Notes
4 h
18m
7.51
✔

★

★

★

★

★

30 Jul 2015
Anonymous
Ride Notes
1 h
45m
4
✔

★

★

★

★

★
The horse camp is named after Ken Wilcox, a preeminent Washington State horseman and proponent of back country horse use. The campground is designed for horse users and has many horse friendly amenities plus miles and mile of trails.
Enjoy this article about horse riding at Haney Meadow from the July 2016 issue of The Northwest Horse Source.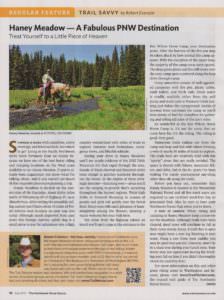 NOTE: The camp and surrounding area suffered significant damage during a 2012 wildfire. The trail system was also heavily impacted. Falling trees are a danger.
Land Manager is Wenatchee National Forest
Certified weed free feed is required at this location
Northwest Forest Pass is required at this location
TrailMeister is your horse trails and camp guide to horse riding trails and horse camps across America. From trailheads in the high country, to state parks, county parks, bridle trails, and wilderness areas, we've got your trail ride listed.  Need a trail map? We've got them as well as; photos, reviews, trail maps, horse trailer driving directions, videos, and tips! You can search for trailheads, campsites, and campgrounds by state, zipcode, or even if they have a corral or stall for your horse!
Get out of the arena, into the wildflowers, cross the streams and through the woods to breathtaking vistas, lakes, and mountain trails. You'll love horseback trail riding and horse camping in Maine.
Trot over to our Horse Trails search page to find the scenic bridle path or equestrian trail of your dreams.
Canter to our Tips page for horsemanship and etiquette tips to help make your horseback trail rides even better. So load that horse trailer and head to some Horse trails and horse camps!
Gallop to the videos page and ride along with us as we overnight around the campfire near a quiet mountain trail at backcountry horse camp, surrounded by spectacular scenery.
Looking for horse trail riding tips? Here's the horse trail riding tips page – https://www.trailmeister.com/category/tips/