Jefferson Lake State Park - 1trailmeister added this area
Steubenville, OH
Riders have logged 7.74 miles & 3.22 hours here.
Date
Rider
Hours
Minutes
Miles
GPS
Photos
Rating
19 Sep 2014
Anonymous
3 h
13m
7.74
✔

★

★

★

★

★
In spring of 2017 Jefferson Lake moved equestrian camping into the main campground across the park. This is a multi-use campground that also has a playground, volleyball court, and basketball court. The old equestrian camp is now to be used for day riding only.
So now for equestrian use, first come first serve, there are 5 electric campsites and 40 non-electric campsites. More electric sites are planned. I can send another update when they complete them.
There are 3 tie lines with room for a total of 21 horses but there are many good spots to set up your own tie line as well.
There are a couple primitive restrooms in camp as well as potable water (a faucet to fill water buckets and a fountain for people).
There are 10 trails, totaling just over 20 miles.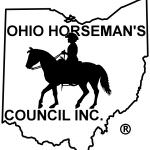 Many horse trails throughout Ohio have been established and are maintained by volunteers of Ohio Horseman's Council in cooperation with landowners.
The Ohio Horseman's Council Inc. is a non-profit corporation organized in the state of Ohio. We advocate for the preservation of bridle trails throughout the state as well as the rights of equine owners.  OHC has more than 4,500 members in 70 county chapters representing all ages of rider, breeds of equine and riding disciplines. Click here for more info on the Ohio Horseman's Council. 
Land Manager is Ohio State Parks – http://parks.ohiodnr.gov/jeffersonlake
First come first served
Call the park office at 330-222-1712 (Physically at Guilford Lake State Park but the same office is in charge of Guilford Lake, Jefferson Lake, and Beaver Creek) for daily camping rates or see sign posted at campground entrance. It is approximately $20/night depending on day of week and time of year, electric spots are slightly more than non-electric, with discounts for senior citizens.