Los Burros - chollapaws added this area
McNary, AZ
Directions

×

Driving Directions

Click the icon for directions in google.

Directions from McNary: Take the gravel road north (Forest Road 224) through the White Mountain Apache Reservation about 7 miles to the signed turnoff to Los Burros; turn right and proceed about 1/4 mile to the campground.

☆☆☆☆☆
Directions

×

Driving Directions

Click the icon for directions in google.

Directions from McNary: Take the gravel road north (Forest Road 224) through the White Mountain Apache Reservation about 7 miles to the signed turnoff to Los Burros; turn right and proceed about 1/4 mile to the campground.

☆☆☆☆☆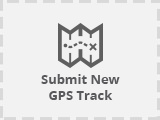 No routes found... Be the first to submit one.
Alpine, High elevation
With a historic red barn, greeting riders at the trailhead, Los Burros campground, near McNary, Arizona,  is a magical place.
From the trailhead, a wide trail crosses a beautiful meadow and arrives the first of many forest service  roads. Focus on the blue-diamond trail tags that identify the trail as part of the White Mountains Trail System. Although the route is obvious in most places, the markers come in handy — there are a lot of right- and left-hand turns on this long and winding trail, which ultimately wraps around Wishbone Mountain.