Popple Ridge Horse Trails - 1trailmeister added this area
Antigo, WI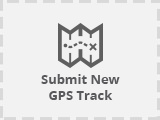 No routes found... Be the first to submit one.
Popple Ridge was hit with destructive winds of more than 100 mph in July of 2019. This damaged thousands of acres of forestry in Northern Wisconsin. As of November 22, 2020, the latest update is "Popple Ridge will not be available for a couple of years. The club in the area is working with rangers on when they can get in and start over. They almost have the camping area clear cut and will be using it as a log landing. Sometime in the winter of 2020-2021 they will start logging. As of now there is no Popple Ridge."
Hilly forested terrain is the norm for these very popular 24 miles of trails through the Nicolet National Forest in Langlade County.