As published in Horse & Ranch Magazine January 2017 issue
Tsali Recreation Area, Robbinsville, North Carolina
On the web: https://www.trailmeister.com/trails/tsali-recreation-area/
Trailhead Coordinates: 35.406188, -83.585557
Over 40 miles of trails blooming with mountain laurel, rhododendron, and flame azalea await riders in the scenic Smoky Mountains at the Tsali (sounds like Sally) Recreation Area within the Nantahala National Forest. With stunning mountain and lake views, a wide range of trail challenge levels, and easily located less than 3 hours from the major cities of Charlotte, Knoxville, and Atlanta it's no wonder that Tsali is a very popular destination point for riders across North Carolina, Tennessee, and Georgia.
Trails at Tsali are multi use and are shared with hikers and mountain bikers. Tsali has a unique trail sharing arrangement that allows both equestrians and cyclists to co-exist in a safe manner while allowing both groups equal access to the trails. An alternate day schedule for trail usage is in effect in which on any given day half the trails are open for horse usage and closed to bicyclists, on the following day the trail selections are reversed. This ensures that everyone can enjoy everything that Tsali has to offer without the nagging fear of encountering silent wheeled horse eating monsters clad in lycra and spandex. Don't worry about the schedule as all the trailheads have signs clearly detailing which routes are allowed on what day.
Riders at Tsali have two main loops, comprised of 4 smaller loops to discover. All the trails here offer meandering routes through mixed pine and hardwood forests on peninsulas that stretch into Fontana Lake.
Located to the north of the trailhead are the right and left loops of the Tsali Horse trail. Totaling about 23 miles this is the larger of the two areas.  The Left Loop the longest (11.9 miles) of the trails at Tsali, offers a bit of a roller coaster experience as the trail repeatedly climbs and descends as you ride along the shore of Lake Fontana.  A point of interest on the Left Loop is "The Old Chimney" the lone remaining relic of a cabin from days past. The trail passes through what used to be the cabin. Wiping of shoes is not required. The Right Loop is slighter shorter (11 miles) but makes up for decrease in distance with a couple of bridge crossings and some side hills. Both loops return to the trail head on the gravel County Line road.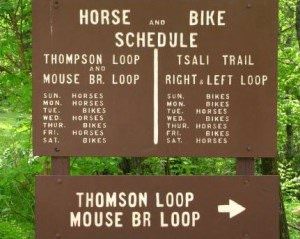 Head west from the trailhead to explore the Mouse branch and Thompson loops. Totaling about 16 miles these trails are similar to those found to the north, passing through; both forest and clearcut; remains of old homesteads, and great lake views.
Best times to visit Tsali are throughout Fall, Winter, and Spring before summers' heat and humidity take hold.
Until next month for more information on these and other equestrian riding destinations throughout the U.S. please visit www.TrailMeister.com for free trail maps and fully validated trail and trailhead information.