VIAIR Air Compressor 450P-RV Portable compressor Review
If you're new to pulling a horse trailer, you might ask, "Do I need a portable air compressor?"  Unless you don't mind waiting hours for emergency road service, the answer is a resounding yes. Portable air compressors are handy when you need air quickly, are in a remote location, or when the air pump at the gas station is broken. They're lightweight, and you can take them anywhere.
A key to safety on the road is keeping our tires properly inflated, especially for larger vehicles such as trucks hauling horse trailers. Tire pressure maintenance is essential for every trail rider who pulls their horses.
Features to look for: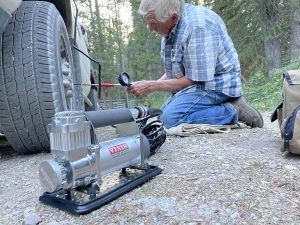 Initially, we had thought about installing an air compressor in the truck. While this option has its benefits, we decided to use a portable 12-volt compressor instead because it can quickly move between vehicles.
The two most significant features that we looked for include max air pressure (Pounds per Square Inch – PSI) and rate of inflation (Cubic Feet per Minute – CFM).
Max air pressure (PSI): Find an air compressor that can develop enough pressure to inflate your tires to the maximum operating tire pressure. Consider a compressor that can go beyond the maximum tire pressure your truck and trailer require. An air compressor with a higher max pressure than needed will allow you to fill a tire in less time.
Rate of Inflation (CFM): A compressor with a higher max CFM will move tire into your tire more quickly than one with a lower CFM rating. For us, this means less time stuck on the side of the road.
Having a portable tire inflator in your truck or trailer reduces your risk of being trapped at a remote trailhead or stuck on the side of the road. A flat can go from troublesome to dangerous, especially if you're in the middle of nowhere. My last three trips to Montana's Bob Marshall Wilderness complex have included flat tires. Once I had two flats on the same stretch of road. Yes, it's a lousy road. In times like these, a portable air compressor can save the day. It's not only been a trip saver for me. I've assisted folks I've met at the trailhead that needed air in their tires.
How a portable air compressor works:
A portable 12V air compressor squeezes air with a piston, just like the air compressor you may have in your garage. However, unlike the air compressor, you may have at home, most portable units do not have a storage tank.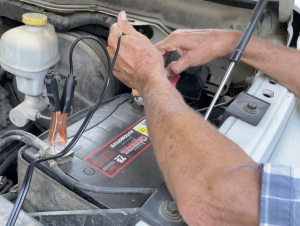 VIAIR's 450P Air Portable Compressor gets its power by connecting directly to your vehicle's 12-volt battery using alligator clips. It's important to note that reliable air compressors will be power-hungry and draw 20 amps or more at 12V. These high current compressors will quickly draw down a battery if the engine isn't running to recharge the battery. Again, your vehicle should be running when using the compressor; otherwise, you may find yourself stranded in the middle of nowhere with a flat tire and a dead battery.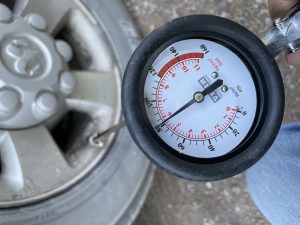 The VIAIR 450P can generate operating pressures over 130psi for up to 40 minutes before it automatically shuts off for a time to cool. This is referred to as the unit's duty cycle. The duty cycle refers to how long a unit can run continuously without being shut off for a cool-down period. Piston-driven compressors generate a lot of heat, damaging the unit if left running longer than their recommended duty cycle.
What comes in the bag:
12-volt air compressor
Two 30-foot coiled extension hoses with quick connect couplers
Inflation gun with a 160-psi pressure gauge
8-foot-long power cable
Extended Reach Chuck (For Dual Rear Wheels)
Parting thoughts:
The VIAIR 450P is a powerful, high-quality air compressor that does a very good job at all of the tasks we've thrown it. Over the decades, we've traveled extensively into remote areas with the horses, and our VIAIR 450P portable air compressor has become a frequently used tool. Before departing a trailhead or horse camp, we always try to include a tire pressure check. Due to the rough roads we travel often, at least one tire on our rig will need a shot of air. Without the compressor, we would have to take a chance towing with low tire pressure. Having it onboard gives us peace of mind when we're miles from any services, which happens quite a bit in our case.
A quality portable air compressor is a tool that every trail rider should travel with. The VIAIR 450P brings with it the convenience of being able to inflate tires without leaving camp. And more importantly, it allows you to properly maintain your truck and horse trailer tire pressures regardless of location. In the long run, the VIAIR 450P has saved us money and allows us to travel with greater peace of mind and safety.
Here's a link with more information on the VIAIR 450P model that we have and use – https://amzn.to/3RLQyPF
Disclosure: Please note this post may contain affiliate links. This means we earn a small commission if you make a purchase using our links– at no additional cost to you. That income goes toward supporting the free content on this site.
For more information on trail riding and camping with horses, visit us at www.TrailMeister.com. It's the world's largest guide to trails and camps!