35 Essentials to Keep in your Truck
Is your Truck Ready for Trail Riding?
Your truck. Unless you're one of the fortunate few, your horses aren't leaving home without a vehicle to pull your horse trailer. Despite the care, you give your truck and trailer, you never know when they might give you some mechanical trouble. Indisputably, one of those times could be while you're in the middle of nowhere on the way to a great ride. The views might be gorgeous, but seeing a broken-down truck when cell phone signal bars aren't in the picture is less pleasant.
Despite regular maintenance and thorough checks before each trip, I've had or been around urgent needs for emergency roadside help three times this past year. Each time I was far removed from cell phone service, let alone a repair shop, I was on my own. Fortunately, I believe in and carry tools in my truck for such occasions.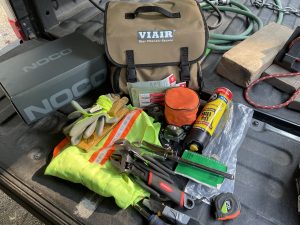 Although roadside assistance services are helpful, they are pricey and can be pretty slow to arrive. Getting help is even more complicated if you're stuck in a remote location. That, of course, is assuming that you have cell service. Having the tools on hand to make repairs takes a lot of the wonders and "what ifs" out of your towing adventures.
Over the past decades, I've settled on these 35 Essentials to Keep in your Truck that help to keep my truck ready for trail riding.
The 4 Essentials:
Fire extinguisher – Keep a small fire from becoming unmanageable.
Jumper cables – Save the day if you leave your headlights on.
Jump starter battery pack – Save the day if you leave your headlights on and are on your own.
First Aid Kit – Be your own doc until a real one can arrive.
The 10 Tools:
Phillips head and flat-bladed screwdrivers – Tighten and loosen screws and prying items apart.
Pliers – Hold stuff while installing, removing, or squeezing items together.
Channel-lock pliers – Dealing with big machine nuts or turning pipes.
Adjustable Crescent wrench – Tighten and loosen bolts and machine nuts.
Claw hammer – Straighten what got bent, bend what got straightened, drive nails and stakes, pull them out again, and provide "persuasion" where needed.
Pocket knife – Cut rope and twine, strip wire insulation, or just carve if you're inclined.
Wire cutters – Cut electrical wire or turn metal coat hangers into marshmallow skewers.
Small tape measure – Determine how much ground clearance you'll have while getting over that boulder embedded in the road.
Mini hacksaw – Cut away twisted bolts, damaged metal work, and thicker plastics. Anything where a knife won't work.
Folding tree saw – Remove trees that have fallen across the only road home, and you can't back up.
3 Things to Keep Stuff Together:
Glue – While glue won't mend a broken heart, it'll fix lots of other things and can keep a situation from going from bad to worse.
Zip ties – Bundle bits and bobs and keep them out of the way.
Duct tape – A universal fix-it that's good for any repair.
5 Things to Help Keep the Lights On:
Nothing is more aggravating than trailer lights blinking on and off on their own or having a police officer pull you over because a brake light is out.
Electrical tape – Prevent sparks and keep fuses from blowing.
Spare Fuses in various amperage ratings – Replace blown fuses on your power panel.
Spare bulbs for brake, turn, and running lights – Save yourself from a traffic violation or worse.
Head-mounted LED flashlight – Work in the dark where you need both hands free.
Multi-meter – Rapidly identify electrical problems.
10 Tire Changing Tools:
Roadside Triangles – Be seen if you have to change a tire on the side of the road. Get at least three that are DOT approved.
Reflective safety vest – Be seen if you have to change a tire on the side of the road.
Wheel chocks – Keep the vehicle from rolling when you don't want it to.
Trailer aid – An easier way to lift a trailer for changing a tire.
Lug wrench – Change that tire.

Why should you carry a breaker bar instead of a cordless impact wrench for lug nuts? Simply put, a length of pipe is not only much less expensive than a battery-powered gadget, but it also cannot fail. A pipe has no batteries to check on and nothing to break. The same cannot be said of an expensive tool that relies on equally costly batteries.

Can of Fix a Flat – A temporary tire fix until you can get into a repair shop.
Gloves – Keep your hands in one piece while making repairs.
Tire pressure gauge – Make sure your tires are ready to roll.
Portable air compressor – Inflate flats the easy way.
Tire patch kit
3 Miscellaneous Items I Won't Go Without:
Multi Tool – Solves a million and one everyday problems.
Permanent Maker – Marking your things and keeping track of which wire is which.
Communications Device other than a cell phone – These can get help when there are no bars on the phone. – https://www.trailmeister.com/satellite-messengers/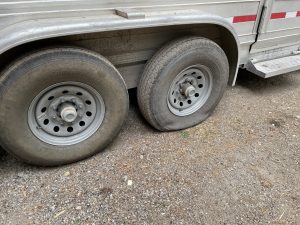 Everyone has run into truck or trailer trouble on the road. Perhaps someone was around to help, or maybe you were lucky and had cellular service. But what do you do when you're in the middle of nowhere? By investing in these 35 Essentials to Keep in your Truck, I'm helping to ensure that my truck is ready for trail riding and that if I should have a problem while away from home, I'll be able to at least get home where a professional can make a more permanent fix.
For more information on trail riding and horse camping, please visit us at www.TrailMeister.com. TrailMeister is the world's most extensive guide to horse trails and camps and a resource for information to keep your rides enjoyable and safe. The best-selling book "The ABCs of Trail Riding and Horse Camping" features 180 more topics for the active or aspiring trail rider, from how to train your horse for the trail to how to use that GPS. Get your copy on Amazon.