35 Essentials to Keep in your Truck
Is your Truck Ready for Trail Riding?
Your truck. Unless you're one of the fortunate few, your horses aren't leaving home without a vehicle to pull your horse trailer. Despite the care, you give your truck and trailer, you never know when they might give you some mechanical trouble. Indisputably, one of those times could be while you're in the middle of nowhere on the way to a great ride. The views might be gorgeous, but seeing a broken-down truck when cell phone signal bars aren't in the picture is less pleasant.
Despite regular maintenance and thorough checks before each trip, I've had or been around urgent needs for emergency roadside help three times this past year. Each time I was far removed from cell phone service, let alone a repair shop, I was on my own. Fortunately, I believe in and carry tools in my truck for such occasions.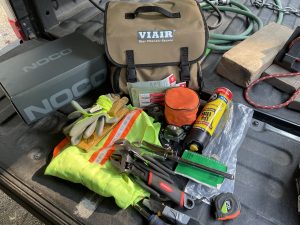 Although roadside assistance services are helpful, they are pricey and can be pretty slow to arrive. Getting help is even more complicated if you're stuck in a remote location. That, of course, is assuming that you have cell service. Having the tools on hand to make repairs takes a lot of the wonders and "what ifs" out of your towing adventures.
Over the past decades, I've settled on these 35 Essentials to Keep in your Truck that help to keep my truck ready for trail riding.
The 4 Essentials:
The 10 Tools:
3 Things to Keep Stuff Together:
5 Things to Help Keep the Lights On:
Nothing is more aggravating than trailer lights blinking on and off on their own or having a police officer pull you over because a brake light is out.
10 Tire Changing Tools:
3 Miscellaneous Items I Won't Go Without: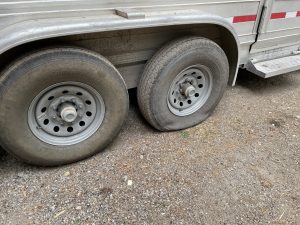 Everyone has run into truck or trailer trouble on the road. Perhaps someone was around to help, or maybe you were lucky and had cellular service. But what do you do when you're in the middle of nowhere? By investing in these 35 Essentials to Keep in your Truck, I'm helping to ensure that my truck is ready for trail riding and that if I should I have a problem while away from home, I'll be able to at least get home where a professional can make a more permanent fix.
For more information on trail riding and horse camping, please visit us at www.TrailMeister.com. TrailMeister is the world's most extensive guide to horse trails and camps and a resource for information to keep your rides enjoyable and safe. The best-selling book "The ABCs of Trail Riding and Horse Camping" features 180 more topics for the active or aspiring trail rider. From how to train your horse for the trail to how to use that GPS. Get your copy on Amazon.