TrailMeister's Top Trail Picks in California, North Carolina, and Florida
As Published in the April, 2011, issue of Trail Blazer.
With Spring's warm temperatures and rain gently pushing Old Man Winter to more northern climes, riding opportunities across the nation are rapidly expanding.  This month we're visiting California's Golden Coast, the mountains of North Carolina, and the Florida Panhandle in search of spring wildflowers and riding. Settle into your favorite easy chair for a reading ride into three new areas to explore, and get ready to saddle up.

Cuyamaca Rancho State Park, Julian, California
On the Web: https://www.trailmeister.com/trails/cuyamaca-rancho-state-park/
Trailhead Coordinates: 32.970311, -116.563279
Forty miles east of San Diego, nestled in the San Diego Mountains you'll find Cuyamaca (pronounced Kwee-ya-mak-a) Rancho State Park as well as a myriad of wild aster, indian pinks, and penstemon blooms as you ride through pine and chaparral on well over a hundred miles of trails in every combination of loop size and difficulty level. With Southern California's perfect climate and the park's elevation, ranging from 3,200 to 6,000 feet, riders here are blessed with generally wonderful weather and year 'round riding opportunities. From the mountain tops you'll have unparalleled views of the Pacific coastline to the west and desert country to east that beckon you further afield.
Access to the abundant trails is easy thanks to multiple access points for day riders as well as several well appointed equestrian camping areas.
There are two horse friendly camping areas at Cuyamaca including the large Los Vaqueros group camp with centrally located corrals, and the new Green Valley family horse camp. Regardless of which camping area you're visiting keep in mind that this is a very popular place and reservations are highly recommended for campers of all types.
The newest horse camping facility, the Green Valley family camp, has fourteen family campsites and all the amenities except electricity. Popular trails that are easily accessed from Green Valley are the Monument Trail and the Arroyo Seco Fire Road. This new horse camp is located adjacent to the popular Green Valley Campground, which is rated as one of the ten best campgrounds in California, and is used by campers of all types.
For those that don't have time for camping with their horses or mules, Cuyamaca does include day use staging areas where you can park, saddle up and ride out.
On the southern edge of Cuyamaca Lake you'll find the Hual-Cu-Cuish (locals refer to it as the "old boy scout camp") day use area. Another day use spot is the Sweetwater horse parking area that is located north of the Green Valley Campground. It offers an immense parking area capable of holding many truck and trailer rigs. A third day use area, the Merigan trail head, is located on the far southern end of the park
As you ride throughout the numerous miles of trails, enjoying the magnificent vistas of mountain ranges, Pacific coastline, lakes, streams and more, you'll also notice the charred remains of what was once a beautiful pine and oak forest. Although devastated in a 2003 wildfire, the trails have been restored through the continuing efforts local trail advocacy groups including the Cuyamaca Rancho State Park Interpretive Association (CPSIA) a multi user organization supporting the park. While the semi-charred landscape is an eerie reminder of the wildfire threat in this region, the vibrant re-growth and greenery highlight the resiliency of nature and the hard work of the groups that maintain this wonderful trail system.

Tsali Recreation Area, Robbinsville, North Carolina
On the web: https://www.trailmeister.com/trails/tsali-recreation-area/
Trailhead Coordinates: 35.406188, -83.585557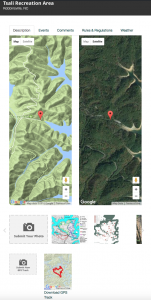 Over 40 miles of trails blooming with mountain laurel, rhododendron, and flame azalea await riders in the scenic Smoky Mountains at the Tsali (sounds like Sally) Recreation Area within the Nantahala National Forest. With stunning mountain and lake views, a wide range of trail challenge levels, and easily located less than 3 hours from the major cities of Charlotte, Knoxville, and Atlanta it's no wonder that Tsali is a very popular destination point for riders across North Carolina, Tennessee, and Georgia.
Trails at Tsali are multi use and are shared with hikers and mountain bikers. Tsali has a unique trail sharing arrangement that allows both equestrians and cyclists to co-exist in a safe manner while allowing both groups equal access to the trails. An alternate day schedule for trail usage is in effect in which on any given day half the trails are open for horse usage and closed to bicyclists, on the following day the trail selections are reversed. This ensures that everyone can enjoy all that Tsali has to offer without the nagging fear of encountering silent wheeled horse eating monsters clad in lycra and spandex. Don't worry too hard about the schedule as all the trailheads have signs clearly detailing which routes are allowed on what day.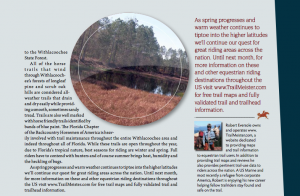 Riders at Tsali have two main loops, comprised of 4 smaller loops to discover. All of the trails offer meandering routes through mixed pine and hardwood forests on peninsulas that stretch into Fontana Lake.
Located to the north of the trailhead are the right and left loops of the Tsali Horse trail. Totaling about 23 mile this is the larger of the two areas.  The Left Loop the longest (11.9 miles) of the trails at Tsali,  offers a bit of a roller coaster experience as the trail repeatedly climbs and descends as you ride along the shore of Lake Fontana.  A point of interest on the Left Loop is "The Old Chimney" the lone remaining relic of a cabin from days past. The trail actually passes through what used to be the cabin. Wiping of shoes is not required. The Right Loop is slighter shorter (11 miles) but makes up for decrease in distance with a couple of bridge crossings and some side hills. Both loops return to the trail head on the gravel County Line road.
Head west from the trailhead to explore the Mouse branch and Thompson loops. Totaling about 16 miles these trails are similar to those found to the north, passing through; both forest and clearcut; remains of old homesteads, and great lake views.
Best times to visit Tsali are throughout Fall, Winter, and Spring before summers' heat and humidity take hold.

Withlacoochee State Forest, Nobleton, Florida
On the web: https://www.trailmeister.com/trails/withlacoochee-state-forest-croom-tract/
Trailhead Coordinates: 28.593171, -82.297841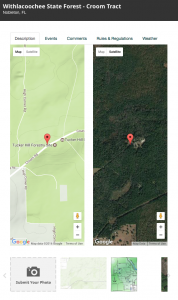 The World Wildlife Fund calls the Withlacoochee State Forest one of the "10 Coolest Places in North America." One of the many "Cool" things about the Withlacoochee State Forest is the preponderance of equestrian access points across many areas of the forest that stretches across west central Florida. The Croom tract in particular is near the Cross Florida Greenway Trail and its "Land Bridge", which is a fully landscaped trail that provides safe passage across Interstate 75 for horse riders.
Some of the more popular equine based areas of Withlacoochee are the Citrus, and Croom Tracts of the forest. Both of these areas traverse a 100,000 acre area known as Florida's Sandhills. A region recognized by its towering forests of longleaf pines growing from an undulating green blanket on the forest floor.
The Citrus Tract with the well known, and well appointed, Tillis Hill Recreational Horse Camp is a popular riding spot for group gatherings and day use area so that everyone can enjoy the nearly 40 miles of trails located near Inverness. With 28 stalls and plenty of room for high lines, or portable corrals, and 37 designated camps sites, it's little wonder why Tillis is a well regarded destination spot for Florida horse folk.
Situated about twenty miles southeast of Tillis is the Croom Equestrian Trail system in the appropriately named Croom Tract.  Located near the town of Nobleton, northeast of Tampa, the Croom tract offers outstanding trail opportunities for day use riders within its 20,000 acres.
The main day use area, next to the Tucker Hill Fire Tower provides access to the 34 ought miles of the main equestrian trail system as well as an easy entry point to the Withlacoochee State Forest.
All of the horse trails that wind through Withlacoochee's forests of longleaf pine and scrub oak hills are considered all weather trails that drain and dry easily while providing a smooth, sometimes sandy tread. Shoes are not considered mandatory here but are generally advised. Trails are also well marked with horse friendly trails identified by bands of blue paint. The Florida Chapter of the Backcountry Horsemen of America is heavily involved with trail maintenance throughout the entire Withlacoochee area and indeed throughout all of Florida. While these trails are open throughout the year, due to Florida's tropic realm, best seasons for riding are winter and spring, fall riders have to contend with hunters and of course summer brings heat, humidity, and the heckling of bugs.
As spring progresses and warm weather continues to tiptoe into the higher latitudes we'll continue our quest for great riding areas across the nation. Until next month for more information on these and other equestrian riding destinations throughout the U.S. please visit www.TrailMeister.com for free trail maps and fully validated trail and trailhead information.