TrailMeister's Trail Picks – Visit Oregon, Indiana, and Georgia
As published in the May, 2011, issue of Trail Blazer Magazine
If there is an "official" start of the riding season I believe it's in May. Regardless of where you reside the lengthening days and warming weather are opening up more and more riding destinations throughout the U.S.  In the Pacific Northwest the high trails are slowly reappearing from under their winter blanket, the central states are drying out and mountainous areas of the south are hitting their best.  You've given your truck and trailer a tune up, cleaned and oiled your tack, your favorite riding buddy has shed the winter coat, and now the time has come to put all those winter days of planning great rides into action. Read on for three not to miss areas that offer great riding visit this month.
Willow Prairie Horse Camp, Medford, Oregon
On the web: https://www.trailmeister.com/trails/willow-prairie-horse-camp/
Trailhead Coordinates: 42.4056, -122.3898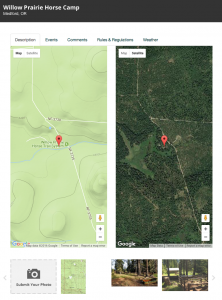 Towering forests, alpine meadows, ponds, and over 30 miles of great trails await horse riders and campers at the Willow Prairie Horse Camp in southwestern Oregon.
Located just a few miles southwest of Mt. McLoughlin which soars 5,300 feet overhead, the Willow Prairie Horse Camp sits in a flat area, next to its namesake meadow in the Rogue River-Siskiyou National Forest.  You'll find the meadow hosts a series of wetland areas, and a few shallow beaver ponds.  In addition to the humans and equines that visit the area, regular homesteaders are ducks and geese amongst a myriad of waterfowl living in the wetlands. Forest denizens in the drier areas include the ubiquitous coyotes, deer, elk and bear. Regarding the area's bear and coyote population; a clean camp won't attract them and will help keep your camp adventures much more manageable!
Camping season at Willow Prairie is just getting under way for the year. The camp's elevation of 4,400 feet means that spring and summer arrive here just a little later than camps at lower elevations and latitudes. Depending upon the severity of the winter it's not unheard of to have traces of snow in the camp ground well into June. With this year's La Nina weather pattern riders should be able make it into camp and onto the trails by late spring.
Horse campers pulling into Willow Prairie will find 10 very well appointed camp sites each with sturdy log corrals, fire pit, and picnic table.  Shared amenities include potable well water, troughs for horse water, vault toilets, and a designated manure trailer for equine waste.  A campground host is usually in camp during the heaviest usage period from Memorial Day to Labor Day to collect camp fees, answer questions, and generally keep the camp running smoothly. As the abundance of amenities and the presence of a campground host confirms, Willow Prairie is a very popular destination point for horse riders and campers. Reservations are encouraged!
For campers wanting an extra special experience during their stay at Willow Prairie, the historic Willow Prairie Guard Station, a one-room log cabin at the edge of the meadow, is available for rent. Built in 1924 it is rustic with the bare necessities of furnishings, but in a beautiful setting and is a bit more secluded than the regular campsites.
In addition to a wonderful campground, Willow Prairie's trails are equally well maintained, scenic, and a pleasure to ride.  There are about 30 miles of trails meandering throughout this absolutely beautiful area. Trails do have a tendency to be rocky in places so shoes or boots are recommended. Spring riders will encounter many water obstacles while visitors later in the year will find a drier environment as well as more people.
Other trail systems that are easily accessed from camp are the Willow Lake and Rye Springs systems which allow riders miles upon miles of riding opportunities.
Hickory Ridge Horse Camp, Bedford, Indiana
On the web: https://www.trailmeister.com/trails/hickory-ridge-horse-camp-hoosier-national-forest/
Trailhead Coordinates: 38.9764, -86.2932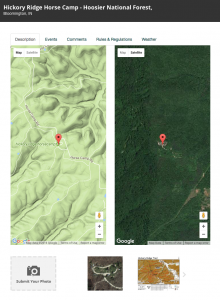 The rolling ridges and valleys of the Hoosier National Forest in south central Indiana provide a broad mix of riding opportunities for equestrians from across Indiana and indeed the entire Midwest region. Despite being a smaller national forest Hoosier National Forest is clear proof that a forest's size is no indicator of the riding opportunities or the quality of trails that are available. With almost fifty miles of well maintained trails immediately accessible and Indiana's only wilderness area just a short ride away, Hickory Ridge should be prominently listed on everyone's bucket list of places to ride.
The terrain surrounding Hickory Ridge is beautiful at any time of the year and offers riding opportunities on multiple loops and levels of challenge and difficulty through areas of picturesque hardwoods and streams. The trails are very well marked and many intersections boast maps showing the current location of the rider. In addition to the very helpful signage, the Hoosier Back Country Horsemen also maintain the trails by hardening the trail surfaces with geotech, rock and gravel to help eliminate muddy spots and preserve the trail.
The Hickory Ridge Horse Camp proper is a shady primitive camp with space for 2 to 25 truck trailer rigs, stock water, mounting ramp, toilets, and highlines.  Nearby is the historic Hickory Grove Church complete with hitching rails and vault toilet. Numerous trails radiate outward from the camp in a network of loops.  By linking the loops the only limit to your ride is your time!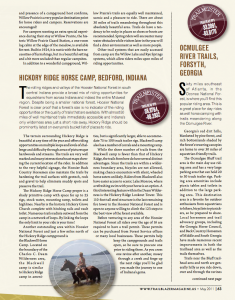 Another outstanding area within Hoosier National Forest and just a few miles north of the Hickory Ridge campground is the Blackwell Horse Camp. Located on the boundary of the Charles C. Deam Wilderness area the Blackwell camp is similar to the Hickory Ridge camp in amenities, but is significantly larger, being able to accommodate 75-100 truck trailer rigs. Blackwell camp also has a number of corrals and a mounting ramp available for use.
While the sheer number of trails from the Blackwell camp is fewer than that of Hickory Ridge the trails from here do have several distinct advantages. Since the trails here are within a wilderness boundary area, bicycles are not allowed, making chance encounters with silent, wheeled, lyrca clad horse eaters unlikely. Riders from Blackwell also have easier access to scenic Lake Monroe where a refreshing swim with your horse is an option. A third interesting feature within the Deam Wilderness is the Hickory Ridge Lookout Tower. This 110 feet tall steel structure is the last fire tower remaining in the Hoosier National Forest and is open to anyone willing to climb the 123 steps to the best view of the forest available.
Before venturing to any area of the Hoosier National Forest all riders over the age of 16 are required to have a trail permit. These permits can be purchased from Forest Service offices or many local businesses.  These permits help keep the campgrounds and trails open, so please be sure to procure one prior to riding there. As you cross one ravine after another, mosey through a creek, and forge up the next ridge you'll be glad you made the journey to one of Indiana's gems.
Ocmulgee River Trails, Forsyth, Georgia
On the web: https://www.trailmeister.com/trails/ocmulgee-river-trails/
Trailhead Coordinates: 33.2091, -83.8170
Sixty miles southeast of Atlanta, in the Oconee National Forest, is where you'll find this popular riding area. This is a great place for day rides as well horse camping with trails meandering along the Ocmulgee River.
Georgia's red dirt hills, blanketed by pine forest, and rich bottomlands shaded by the forest's towering canopies are home to over thirty miles of equestrian friendly trails.
The Ocmulgee Bluff trail area is the main day use riding area and has a very large parking area that can hold 20 – 30 truck trailer rigs. Parking area amenities include picnic tables and toilets in addition to the large parking area. This destination area is a favorite for all outdoor enthusiasts from horse riders to hikers, bicyclists, and picnickers, so be prepared to share. Local horsemen and trail advocacy groups, including the Georgia Horse Council, and Back Country Horsemen of Middle and South Georgia have made numerous recent improvements in both the trailhead area as well as the trails themselves.
Trails near the Bluff trailhead area, and north are generally hilly as you ride down, over, and through the ravines of tributaries feeding the Ocmulgee. The rolling terrain drains precipitation more easily than flat areas so the trails here dry quicker than others in the area.
A favorite ride from the Bluff is to the "swimming hole". A short half hour from the trailhead you'll find a broad sandy beach that makes the perfect swimming and lunch stop.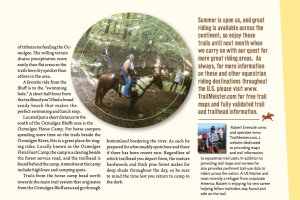 Located just a short distance to the south of the Ocmulgee Bluffs area is the Ocmulgee Horse Camp. For horse campers spending more time on the trails beside the Ocmulgee River this is a great place for staging rides. Locally known as the Ocmulgee Flats Hunt Camp, the camp is a clearing beside the forest service road, and the trailhead is found behind the camp. Amenities at the camp are limited to highlines and camping spots.
Trails from the horse camp head north towards the main trail system that originates from the Ocmulgee Bluff area and go through bottomland bordering the river. As such be prepared for a few muddy spots here and there if there has been recent rain.
Regardless of which trailhead you depart from, the mature hardwoods and thick pine forest makes for deep shade throughout the day so be sure to mind the time lest you return to camp in the dark.
Summer is upon us, and great riding is available across the continent, so enjoy these trails until next month when we carry on with our quest for more great riding areas.  As always, for more information on these and other equestrian riding destinations throughout the U.S. please visit www.TrailMeister.com for free trail maps and fully validated trail and trailhead information.