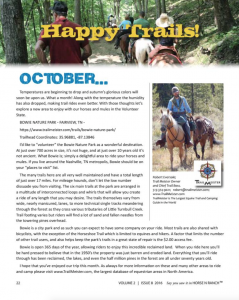 October. Temperatures are beginning to drop and autumn's glorious colors will soon be upon us. What a month! Along with the temperature the humidity has also dropped, making trail rides even better. With those thoughts let's explore a new area to enjoy with our horses and mules in the Volunteer State.
Bowie Nature Park – Fairview, TN
Trailhead Coordinates: 35.96881, -87.13846
https://www.trailmeister.com/trails/bowie-nature-park/
I'd like to "volunteer" the Bowie Nature Park as a wonderful destination. At just over 700 acres in size, it's not huge, and at just over 10 years old it's not ancient. What Bowie is; simply a delightful area to ride your horses and mules. If you live around the Nashville, TN metropolis, Bowie should be on your "places to visit" list.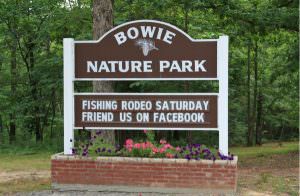 The many trails here are all very well maintained and have a total length of just over 17 miles. For mileage hounds, don't let the low number dissuade you from visiting. The six main trails at the park are arranged in a multitude of interconnected loops and whirls that will allow you create a ride of any length that you may desire. The trails themselves vary from wide, nearly manicured, lanes, to more technical single tracks meandering through the forest as they cross various tributaries of Little Turnbull Creek. Trail footing varies but riders will find a lot of sand and fallen needles from the towering pines overhead.
Bowie is a city park and as such you can expect to have some company on your ride. Most trails are also shared with bicyclists, with the exception of the Horseshoe Trail which is limited to equines and hikers. A factor that limits the number of other trail users, and also helps keep the park's trails in a great state of repair is the $2.00 access fee.
Bowie is open 365 days of the year, allowing riders to enjoy this incredible reclaimed land.  When you ride here you'll be hard pressed to believe that in the 1950's the property was just barren and eroded land. Everything that you'll ride through has been reclaimed, the lakes, and even the half million pines in the forest are all under seventy years old.
I hope that you've enjoyed our trip this month. As always for more information on these and many other areas to ride and camp please visit www.TrailMeister.com, the largest database of equestrian areas in North America.