Chasing Oregon's Volcanoes
As published in The TrailHead News Dec 2018 issue
Over the summer I had the opportunity to camp and ride throughout central Oregon for two weeks, stopping at 4 different equine camps along the way and riding some phenomenal country.
Celeste and I started at the Quinn Meadow Horse Camp, west of Bend. It's a popular destination point for riders throughout the Pacific Northwest. This very clean, very welcoming camp offers sturdy corrals, potable water, private camp spots and miles of loop trails to enjoy through dense forest, and remnants of the area's volcanic past.
Within 10 minutes of the horse camp riders can step back over 7,000 years to a time of bubbling basaltic lava flows and volcanic vistas. Riding through the lava flows that tower overhead is quite the experience! For more info on the horse camp including accurate directions, GPS tracks, pics, and more, visit https://www.trailmeister.com/trails/quinn-meadow-horse-camp/
Great Minds Think Alike at Todd Creek
After a few days at Quinn we decamped and traveled an impressive 5 miles down the road to the Todd Creek Horse Camp where I would be completing my unfinished ride of 2017. Pulling into the immense parking lot that is the Todd Creek Camp we saw that two of our Quinn Meadow mule neighbors had already arrived, made camp and were now planning the next day's ride.
You may be asking, what's to enjoy if I called the camp an "immense parking lot" and that's a fair question. Lots. From the Todd Creek Camp riders can easily connect with a myriad of wilderness rides within the Three Sisters Wilderness that sits right across the road. Riders enjoying Todd Creek's mountainous skyline might wonder the cause of such blessings. Inquisitive minds will soon discover that underneath many of those beautiful, jagged, snowy mountains lie volcanoes.
Our destination point for Todd Creek was the nearby stratovolcano "Broken Top" which lies within an area of many densely-spaced volcanic vents. I'm pleased (and so are my surgeons!) that the ride was uneventful. We enjoyed had a long day in the saddle and covered nearly 20 miles as we explored the slopes and the amphitheater-like eroded crater. I had the opportunity to chat with a team of wilderness biologists that had hiked to the lake to study the remains of an elk herd that was just beginning to appear from beneath the glacier feeding the lake. Evidently at some point in the far past a sizable elk herd was engulfed in an avalanche. The biologists said it could have been 50 or 500 years ago, but that it had occurred during the summer months as evidenced by bulls in velvet and young calves mixed in the remains.
For more info on the horse camp including accurate directions, GPS tracks, pics, and more, visit https://www.trailmeister.com/trails/todd-creek-horse-camp/  .
World Class Views at Newberry Volcanic Monument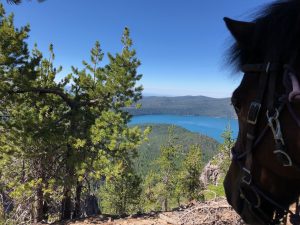 Any trip to Oregon's volcanoes is incomplete without a stop at the Newberry Volcanic Monument ½ hour south of Bend. We continued chasing Oregon's Volcanoes  at the Newberry Volcano. It's  the largest volcano in the Cascades, covering an area the size of Rhode Island. And it's still active as proven by the hot springs and the youngest lava flow in Oregon; the 1,300-year-old Big Obsidian Flow.
Obsidian is a volcanically created glass which has been used for millennia for arrowheads and cutting tools. It's nifty to see it laying on the ground, edges clear and sharp enough to slice an unwary thumb. Ask me how I found that out.
Our ride at Newberry took us from the Chief Paulina Horse Camp east and around the Big Obsidian Field and up to the top of Paulina Peak. The views, oh my, the views across the twin azure blue lakes that fill the main body of the caldera over a thousand feet below are simply spectacular. It was another long day in the saddle but one that was well worth the effort.
Back in camp was another story. Chief Paulina is an older horse camp that sadly is showing its age. When I imagine the camp 50 years ago, in 1960's Technicolor, before big LQ's, and before uncaring users took their toll, this would have been a magical place.
Fortunately, I was told by the Forest Service that they have plans to upgrade the camp to modern standards and that they are actively seeking the partnership of an equine group to help with the campground.
For more info on the horse camp including accurate directions, GPS tracks, pics, and more, visit https://www.trailmeister.com/trails/chief-paulina-horse-camp/
An Early Departure
The fourth destination for our Oregon odyssey was the Whitefish Horse Camp.  With 17 camp sites, pressurized water spigots, and more, Whitefish was the best appointed of all the camps we visited in this trip.  Combine the fantastic amenities with the easy access to numerous trails that loop and meander through the Diamond Peak Wilderness and you'll quickly understand why this camp is a winner in all regards.
For more info on the horse camp including accurate directions, GPS tracks, pics, and more, visit https://www.trailmeister.com/trails/whitefish-horse-camp/.
Compared to our previous stop, Whitefish was operating room clean. The corrals, campsites and general area were impeccable. The place is loved and it shows in the care that is receives. The only things I saw that weren't spotless were three Pacific Crest Trail through hikers. As luck would have it I had three remaining beers in the cooler, I think the hikers needed them much more than I.
Our stay here ended early. Our dog, Abby, had more excitement than an 18-year-old pup needs and was having a hard time with the heat. So, family being family, we sadly headed home.
Well there you go, a brief rundown of a fabulous couple of weeks in Oregon riding and camping amongst volcanoes. For more information on these and other riding and camping areas throughout the US visit www.TrailMeister.com!