EZ Connector – Review
Let's look at a device that will help make trailer towing less of a hassle. The EZ Connector
If you've towed horse trailers you already know the issues with traditional trailer plugs and connectors.
Dirty, corroded, bent and broken plugs and connectors make for trailer lights and brakes that don't work properly.
We've all spent more time than I care to think about taking trailer plugs apart to repair and clean the connections before a camping trip. I've even had to this a few times along road. It's not pleasant.
Not only is losing my ground, lights and brakes annoying it's extremely dangerous. Those days are over.
I was impressed with this product as soon as I learned about it. I've been using it for over a year now and I've got to say it's been great. No issues at all.  I hook up, load the mules and go. I don't worry about my brakes and lights working anymore.
Don't take my word for it though the EZ Connector has won awards from the Specialty Equipment Market Association. SEMA is where the automotive industries best and brightest hang out.
How it Works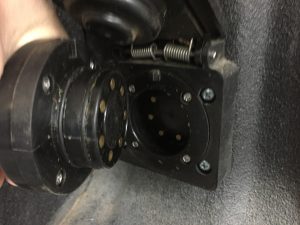 The EZ Connector offers spring loaded face to face contacts all of the internal workings are sealed so they are water proof and corrosion free.
The plug and matching connectors are held together tightly via rare earth magnets. Because the EZ Connector is magnetic, it's a no brainer to understand that the system will breakaway if your trailer cable gets tangled or you forget to unplug it when unhooking your trailer. Yea, I've done that.
As its name implies it's also extremely EZ to install.
Bottom line,  swapping out my existing blade connectors and plugs for the EZ Connector was one of the best decisions I made with the trailer. Peace of mind and safety have value.
These folks really have built a better mouse trap. The EZ Connector will be the last trailer plug I'll ever have to buy. I can't find anything bad to say about this product.
For more information on the EZ Connector visit https://ezconnector.com
I hope this was helpful for you. For more information on where to ride and cmap with horses check out the trail search pages – https://www.trailmeister.com/trails/