Review – Redcliff Tent – Seek Outside
Shelter, it's one of the fundamentals of Maslow's hierarchy of needs and one our prime considerations when camping. Where are we going to sleep? What will keep the rain and bugs at bay? Portable shelters run the gamut from spartan to luxurious. The Redcliff is a bit of both. At its heart it's a floorless pyramid with a single carbon fiber pole at the center.  I love this thing.
It's all about Comfort.
Comfort is important. I used to crawl into my tent at the end of the day and think nothing of it. Those days are gone. Backcountry trips should be for making wonderful memories not "character building" expeditions.
Enter the Redcliff. The ability to stand up and move freely around your tent upright is an eye-opener and it's because of the pyramid style design. Being able to walk into your tent, enjoy a sit in a camp chair, and evade the weather without having to crawl on hands and knees into a tiny nylon cocoon is a welcome change.
The Numbers
Total Weight- tent and pole: 4 lb 10.0 oz (3.1 kg)
Floor Width: 131 in – 103 in
Floor Length: 192 in – 167 in
Area: 134 sq ft;
Peak Height: 6' 11"
Stakes Required: 12
Packed Size: 8.0 in x 9.5 in x 15.0 in
Sleeps: 3-6 (2-3 with a stove)
Materials: 30 denier silnylon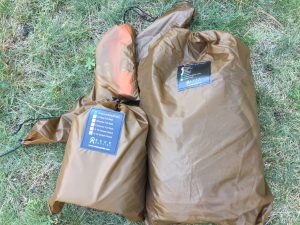 Features:
Dual doors with two-way zippers
Single peak vent with no-see-um mesh that closes with an adjuster
Silnet seam sealer included (factory seam sealing $75 extra)
12 perimeter ground level stake out points
Six mid-height guy-outs for increased interior space and storm protection
Supported by included carbon pole, or overhead tie out
Integrated stove jack with waterproof cover
Integrated sod skirt with interior and exterior stake points
Adjustable height for increased ventilation, or increased storm protection
Color choices- olive green or brown (Brown tested)
Options: interior double-wall liner ($132.50 for half), 2-person inner tent ($179), and Seek Outside stoves, sewn-in screen doors ($110).
Cost: $729
The Redcliff in Use
I'll admit I was a bit skeptical about setting up the Redcliff the first time. The cynicism was unwarranted.  My initial backyard setup was completed within 15 minutes. With a just a little practice, subsequent setup times have dropped to under 5 minutes. Very comforting when it's raining!
The first backcountry trip with the Redcliff was into the Eagle Cap Wilderness in north eastern Oregon, also known as America's Alps. It consisted of four days of rain punctuated by sleet and snow. That it was a fabulous trip is in large part thanks to the Redcliff. For more info on The Eagle Cap here's a link to the Hurricane Creek Trailhead – https://www.trailmeister.com/trails/hurricane-creek-trailhead/
The open and airy spaciousness of the Redcliff was a stark contrast to the other shelters the group had brought. Here the group could mingle out of the frightful weather and warmed by the happy crackling of a word stove. Yes, a wood burning stove in a tent.
Bring on the Heat
One of the features of the Redcliff is the stove jack. This opens up a whole new world of camping opportunities!
For the Eagle Cap outing a Kni-Co Packer Camp stove was employed to keep the tent cozy and warm through the nights and multiple rain storms that marked the trip.  Stay tuned for an upcoming review of this excellent tool.
When you combine ease of setup, spaciousness of the interior, light weight, and durability of materials, with the ability to be heated. Oh my, this is living.
Going Floorless
This was a concern that turned out to unfounded. The few insects that did make their way past the two screened doors congregated at the peak of the tent. Out of the way and out of mind. I do have what Seek Outside calls a "nest" which is an inner lining of bug netting with a sewn in floor. I didn't use this during the Eagle Cap trip because it made adding wood to the stove throughout the night a hassle.
The Size
For 1-2 people the Redcliff is a palatial. Not only can a person stand upright; with 41 square feet of space over 3 feet high there's plenty of room to enjoy a civilized cup of coffee on a camp chair. You'd think that something this big would be heavy but that's not the case at all. Weighing just under 5 pounds with pole, and stakes this is light. For 2 people that foots out about 2.5 pounds per person. Incredible. Add a stove and it becomes even more luxurious.
Parting Thoughts
Although the Redcliff performed admirably in the Eagle Caps, one trip doesn't create a lot of data points for any piece of equipment. That being said I'm very much looking forward to taking the Redcliff into many more remote areas in the coming years.
You can find more information about this excellent piece of gear at https://seekoutside.com.