Holiday Shopping for the Equestrian
As Published on The Northwest Horse Source
November 2013 edition
It's hard to believe that Christmas is just around the corner. If you're like me and have procrastinated on gifts for those special trail riders in your life, here are some thoughtful items that they would love to find under the tree on Christmas morn.
For the DIY set a thoughtful gift set can be easily put together. Visit your local tack shop and simply fill a feed bucket or grooming tote, with goodies that you've picked out yourself, such as: Hoof picks, height and weight tape, assorted grooming tools, clippers, lined riding gloves, or even classic equine movies (The Man from Snowy River is a sure hit). Once the tote or bucket is full, wrap it in craft paper; tie with a bailing twine bow, and presto! You're done.  I've found that The Bony Pony (www.bonypony.com) in Mount Vernon as well as K&S Saddlery (www.kandssaddlery.com ) in Spanaway have aisles and aisles filled with quality goods to ponder over as well as very knowledgeable staff should you need assistance.
Other gifts for trail riders include item to help us get to and from the trailhead. For all things towing related I rely on Casey at Trailers Northwest (www.trailersnorthwest.com ) in Maple Valley. If a new trailer won't fit under the tree Casey suggested the following very useful trailer accessories; door organizers, brush boxes, and bridle racks are all wonderfully useful and quickly bolt onto your trailer. For horse campers, a water tank will let you stay longer and enjoy the trails that much more. If your idea of the perfect gift is the one that you don't have to pick out, Casey also offers gift certificates for trailer maintenance services.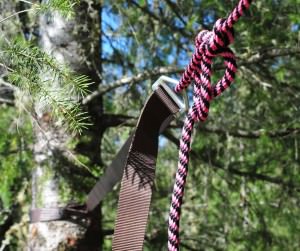 Speaking of horse camping; it would be terribly careless to leave out those of us that venture far from the trailhead and pack into the back country.  For surefire gifts that will have your favorite back country rider antsy for warm weather and high-mountain trails rely on the experienced makers of high quality equipment. Chris Tornow (www.horseandmulegear.com) in Arlington, WA has a wonderful suggestion; Hay Bags. They may not be sexy but talk about being useful in every situation, from the barn to the back country a good set of hay bags will take care of you and your horse!  Chris also reminded me about highline equipment to make sure that morning finds your horse in the same place where you left him the night before. Camping without mentioning food would be a sin and Simone at Outfitters Pack Station (www.outfitterspackstation.com) had a spectacular suggestion that will appeal to everyone; Dutch ovens. A big reason I'm involved with the Back Country Horsemen of Washington is the food, and Dutch oven cooking is at the heart of it. Not only can you find a variety of Dutch ovens at Outfitters Supply you can also get the cook books to help you use them!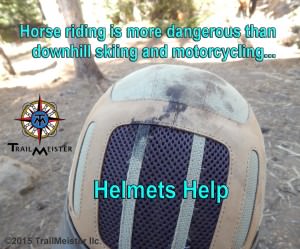 On a more serious note, although not many people think of horseback riding as a dangerous sport, it is ranked as one of the most dangerous activities in the world today. As befits such a high risk sport, a very thoughtful present for the horse rider in your life would be a helmet. Equestrian riding helmets have come a long way and those currently available are remarkably comfortable, and stylish,  in addition to being very protective of your loved ones noggin in the event of an accident. Helmets come in a wide variety of styles, colors, and cost. Regardless of the make and model be sure to purchase a helmet that has been designed especially for equine activities and meets ASTM and SEI standards.
As always for more information please visit www.TrailMeister.com we've got loads of reviews for horse riding and camping equipment as well as being the largest directory of horse trail and camping locations in North America.
You've got a few more days to decide on the perfect item that the horse rider on your gift list will love to find under the tree on Christmas day. Of course, don't forget the horse or mule – I haven't seen one yet turn down a healthy bag of apples or carrots! Use these tips and you can't go wrong. Merry Christmas!