Haney Meadow –
Some of the Finest Horse Camping in Washington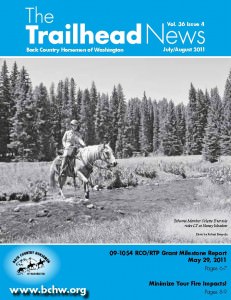 This column on Haney Meadow was published in the July / August 2011 edition of BCHW's The Trailhead News Magazine
Most people in Washington's Back Country Horsemen community have heard of Ken Wilcox; our patron saint of back country equestrian trails. Many people have at least a passing knowledge of Ken's namesake horse camp near Haney Meadow. Far fewer people have actually made the journey to the Ken Wilcox Horse Camp and enjoyed wonderful camping, scenery, and outstanding views in this gem of a spot.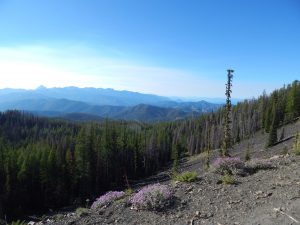 For the uninitiated, Haney Meadow is located on the eastern side of the Cascades about thirty miles north of Ellensburg off of Highway 97 at Blewett Pass. Once you exit the smooth rolling highway asphalt you and your favorite riding buddy are greeted by approximately ten miles of rather rough Forest Service road into camp. This sometimes bone-jarring, consistently narrow and uphill drive is the price of admission into a high country wonderland of miles of trails, meadows, fantastic rock formations, and blissful solitude.
For more information on Haney Meadow including trails maps, trail videos, weather, and more visit – https://www.trailmeister.com/trails/haney-meadow-ken-wilcox-horse-camp/ 
The camp's elevation of about 5,500 feet makes this a summer riding destination. Trying to make your way into the meadow prior to Washington's unofficial July 5th start of summer can be uncertain at best. By the time you're reading this, conditions should be pretty favorable for a visit.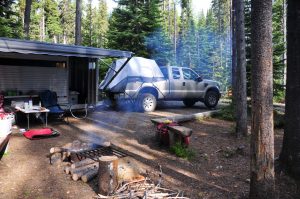 Once you arrive in camp you'll be impressed. The campground has been specifically designed for equestrian use and has 19 campsites with fire pits, picnic tables, vault toilets, a central meeting area, as well as horse-friendly amenities such as hitch rails and highline posts. Stock water is readily available in camp via well pump, and near camp, just below the cabin, at Naneum Creek. Potable water is not available so bring your own.
Of course, while we all appreciate a well-maintained and thoughtfully constructed horse camp; it's the trails that we seek out. Haney Meadow will not disappoint in that respect.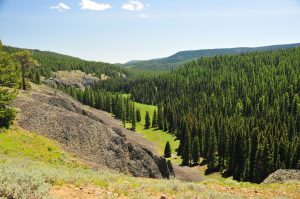 The trails start at higher elevations and stay high, with generally mild elevation gains and losses as you traverse the ridges nestled between the wild Cascade crest and the more open desert regions found to the east. These trails are multiuse, so you'll be sharing them with hikers, mountain bikers, and ORVs.
Stands of fir and ponderosa pine conjure feelings of quiet shady mountain woods and the vast fields of spring wildflowers add plenty of color contrast against the deep blue sky and dark evergreens. Occasional views of Mount Rainier are available as well as a myriad of other peaks in the eastern Cascades.
Expect to see wildlife in abundance throughout the area. Elk are regulars in Haney Meadow itself and are frequently seen on or near the trails and even in camp. A brief note regarding Haney Meadow itself; although the tranquil meadow appears to be a good place for a gallop or graze, it's actually quite dangerous due to the area's mining past that left sinkholes in the open area as a legacy.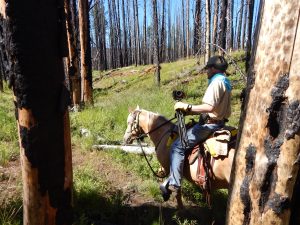 Before you head out, remember that Haney Meadow is located in the Wenatchee National Forest and all livestock users are required to use certified weed-free hay or processed feed, also be sure to have your Northwest Forest Pass when you're there.
In keeping with Ken's role in the creation of the horse camp, the Wenatchee chapter of Back Country Horsemen of Washington helps to maintain the camp and trails in this area. Help preserve access to these trails by following all Leave No Trace guidelines and protocols.
For more information on Haney Meadow including driving directions, trail maps, trail videos, weather, and more visit – https://www.trailmeister.com/trails/haney-meadow-ken-wilcox-horse-camp/ 
As always, for more information on this and other great riding areas in Washington and beyond, please visit www.TrailMeister.com.