When you're towing major equipment such as a horse trailer you need the right setup to get the job done. With a gooseneck style trailer that means my old rear receiver hitch wasn't going to work. I needed to mount a new hitch in the bed of my truck. But which trailer hitch?
Gooseneck hitches are mounted in the center of a truck's bed. This allows the truck's frame, springs, and axles, to support the trailer's tongue weight.
Any hitch that goes in the bed needs to be removable when we're not towing the trailer. I've been very grateful to have the option to turn the ball over, or even take it out completely, when I need to use the whole of the truck bed.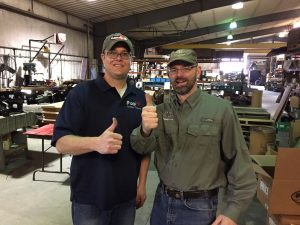 I've seen removable balls that aren't removable due to sticking, freezing, or rust, so being confident in my ability to remove said ball was an important consideration when choosing a gooseneck hitch. For me that meant going with PopUp Towing Products's Flip-Over Ball hitch. The round shank of the ball rotates easily and should it even try to seize up, can be manipulated with a wench.
My hitch mistake was not always greasing my hitch balls. I didn't always think it was necessary. But after looking closely at the wear on both the ball and the coupler you can see how I erred.
Well I think that about does it for gooseneck hitches. I think it's time for a ride! That means a visit to Washington State's Haney Meadow!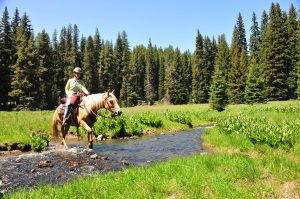 For the uninitiated, Haney Meadow is located on the eastern side of the Cascades about thirty miles north of Ellensburg off of Highway 97 at Blewett Pass. Once you exit the smooth rolling highway asphalt you and your favorite riding buddy are greeted by approximately ten miles of rather rough Forest Service road into camp. This sometimes bone-jarring, consistently narrow and uphill drive is the price of admission into a high country wonderland of miles of trails, meadows, fantastic rock formations, and blissful solitude.
The camp's elevation of about 5,500 feet makes this a summer riding destination. Trying to make your way into the meadow prior to Washington's unofficial July 5th start of summer can be uncertain at best. By the time you're reading this, conditions should be pretty favorable for a visit.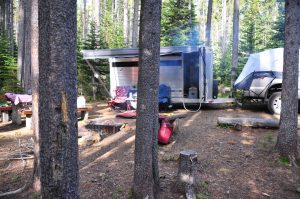 Once you arrive in camp you'll be impressed. The campground has been specifically designed for equestrian use and has 19 campsites with fire pits, picnic tables, vault toilets, a central meeting area, as well as horse-friendly amenities such as hitch rails and highline posts. Stock water is readily available in camp via well pump, and near camp, just below the cabin, at Naneum Creek. Potable water is not available so bring your own.
Of course, while we all appreciate a well-maintained and thoughtfully constructed horse camp; it's the trails that we seek out. Haney Meadow will not disappoint in that respect.
The trails start at higher elevations and stay high, with generally mild elevation gains and losses as you traverse the ridges nestled between the wild Cascade crest and the more open desert regions found to the east. These trails are multiuse, so you'll be sharing them with hikers, mountain bikers, and ORVs.
Stands of fir and ponderosa pine conjure feelings of quiet shady mountain woods and the vast fields of spring wildflowers add plenty of color contrast against the deep blue sky and dark evergreens. Occasional views of Mount Rainier are available as well as a myriad of other peaks in the eastern Cascades.
Expect to see wildlife in abundance throughout the area. Elk are regulars in Haney Meadow itself and are frequently seen on or near the trails and even in camp. A brief note regarding Haney Meadow itself; although the tranquil meadow appears to be a good place for a gallop or graze, it's actually quite dangerous due to the area's mining past that left sinkholes in the open area as a legacy.
Learn more about Haney Meadow – https://www.trailmeister.com/trails/haney-meadow-ken-wilcox-horse-camp/
Before you head out, remember that Haney Meadow is located in the Wenatchee National Forest and all livestock users are required to use certified weed-free hay or processed feed, also be sure to have your Northwest Forest Pass when you're there.
In keeping with Ken's role in the creation of the horse camp, the Back Country Horsemen of Washington helps to maintain the camp and trails in this area. Help preserve access to these trails by following all Leave No Trace guidelines and protocols.
There you go, the most important change I made to the truck to prepare it for hauling a larger trailer. Next month we'll continue the adventure by considering the important features we should be looking for in a horse trailer.  For more information on this topic as well the largest and most accurate guide to horse trails and camps in the world visit www.TrailMeister.com
The TrailMeister Trailer Project is brought to you by the generous support of the following underwriters:
Aah Light –  A natural way to promote healing and control pain – Light On!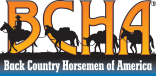 Back Country Horsemen of America – Your national equestrian trails service organization. – Keeping Trails Open for Everyone.
Manufacturing the industries best electric and hydraulic power lifting and leveling systems.
EZ Connector saving you time and money while keeping you and others safely on the road. 

US RIDER – 24/7 Nationwide Roadside Assistance for You and Your Horse
WERM Flooring Systems – A permanent slip resistant solution. – We Eliminate Rubber Mats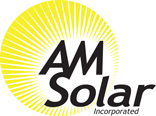 AM Solar – Solar Specialists since 1987. Providing complete independent, reliable and maintenance free solar power systems.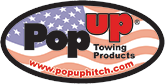 PopUP  Towing Products –  Offering an array of Solutions for all of your towing needs.
Corrals 2 Go – Portable corral panels – Rest easy knowing your animals are safe and secure.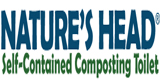 Natures Head Composting Toilets – Lightweight, odorless and compact -Your sanitation solution for RVs and Campers