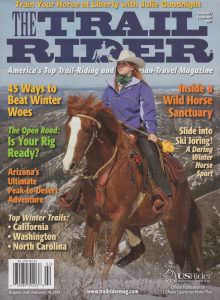 TrailMeister's Top Horse Trails – Winter Riding Opportunities in California, North Carolina, and Washington
As Published in Trail Rider Magazine January/February 2017 issue
January, the start of a brand new year of fabulous trail riding and camping with your horses and mules. Welcome to a new column in Trail Rider Magazine to highlight some of the hidden trail riding treasures across North America! Each month we'll travel around the continent and visit a few new areas to ride and explore with our favorite horses and mules. Whether it's local or a distance, TrailMeister.com is the best source to find trails and the important details you need before saddling up.
This month we'll start in southern California with a desert riding adventure then visit the east coast for a stop in the Mountains of North Carolina, then swing around to the Pacific Northwest for a day ride in the rain near Seattle.
Vern Whitaker Horse Camp Coordinates (33.348831, -116.399595)
On the Web: https://www.trailmeister.com/trails/anza-borrego-desert-state-park-vern-whittaker-horse-camp/
Anza Borrego, California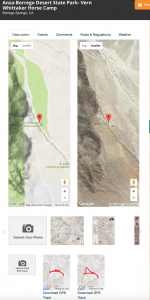 This place is big. Really big. Covering 916 square miles Anza Borrego State Park is the largest state park in California and the second largest state park in the entire US. The park includes 12 wilderness areas, 500 miles of gravel roads and over 100 miles of designated trails. And at only two hours from the cities of San Diego and Riverside it's easy to get to.
The park is named for Juan Bautista de Anza, a Spanish explorer from the late 1700's and the Spanish word borrego, or bighorn sheep.  Portions of the 1,210-mile-long Juan Bautista de Anza National Historic Trail run through the park as it travels from Nogales, AZ to San Francisco, CA. Anza Borrego is also home to the largest number of endangered Peninsular Bighorn Sheep in California. About 280 of these magnificent animals remain and 200 of those call Anza Borrego home. Riders with sharp eyes may also catch a glimpse of speedy roadrunners and graceful golden eagles.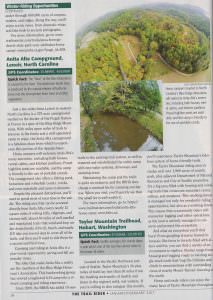 The best season to visit Anza is early spring before the desert becomes dangerously hot for horse and humans. Spring visitors will especially enjoy the techni-color show from the desert wildflowers. In a good flower year, a knee –high carpet of flowers will rise up from the desert floor and stretch for miles.
It's always nice to have a special area set aside just for equine use. It's even better when the equine area is as well-kept and appointed as the Vern Whitaker Horse Camp in Anza Borrego. Horse and mule campers will appreciate the many amenities found here. The modern restrooms and showers will be appreciated after a long day of exploring in the saddle. Campsites are large enough fit LQ trailers and include fire rings, grills, and picnic tables. For our equine friends there are plenty of spacious corrals, manure bunks, and even a wash rack.
Quick Fact – The highest temperature recorded in Anza Borrego was a scorching 122 degrees in June of 1990!
Of course it's the riding that we come here for and a visit to Anza Borrego won't disappoint with 110 mile of designated trails to explore, including portions of the Pacific Crest Trail that runs for 2,659 miles from Mexico to Canada. The park's sandy trails twist and meander through 600,000 acres of canyons, washes, and ridges. Along the way riders will enjoy the scenic views from dramatic vistas, lake beds, and even ancient pictographs.
For more pictures, driving directions, weather forecast, GPS tracks and more from Anza Borrego visit www.trailmeister.com/trails/anza-borrego-desert-state-park-vern-whittaker-horse-camp/.
Anita Alta Campground Coordinates (35.989971, -81.637697)
On the Web: https://www.trailmeister.com/trails/anita-alta-horse-camp/
Lenoir, North Carolina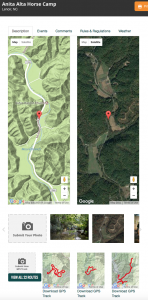 Just a few miles from Lenoir in western North Carolina is a 375-acre campground nestled on the border of the Pisgah National Forest in a spur of the Blue Ridge Mountains.  With miles upon miles of trails to traverse in the forest and a very well appointed camp to enjoy, the Anita Alta campground is a fabulous place from which to enjoy this portion of the Appalachians.
Quick Fact – The "blue" of the Blue Mountains is caused by the trees. The distinctive bluish haze of the Blue Ridge Mountains is produced by the natural release of hydrocarbons into the atmosphere from trees and other vegetation.
Horse campers will welcome Anita Alta's many amenities including bath houses, rental cabins, and kitchen pavilions. Preset highline posts are available and the camp is friendly to the use of portable corrals. An added bonus, when you're not exploring the miles of horse trails the campground also offers a fishing pond, horseshoe and volleyball courts, creeks to play in and even waterfalls and caves to discover.
Despite the pleasant distractions, you'll want to spend most of your time in the saddle. The riding area that can be accessed directly from Anita Alta covers nearly 12 square miles of rolling hills, ridgetops, and ravines with almost 40 miles of well-marked and maintained trails that wind and loop under dense forests of Birch, Beech, and Maple. It'll take you several days to cover all of the trails and then you'll want to ride them again for a second and third time.
Camping and riding at Anita Alta is a year round opportunity with Spring and Fall being some of the most popular times.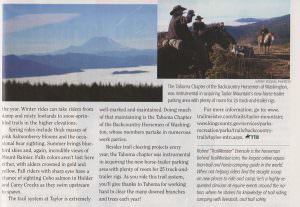 The folks that make Anita Alta a reality are the members of the Blue Ridge Horseman's Association. This hard working group of people have revived a neglected 4-H camp into a vibrant camping and riding experience. Since 2009 the BRHA added 10 new trails to the existing trail system as well as repaired and rehabbed the entire camp with new water systems, driveways, and camping areas.  Maintaining the camp and the trails is quite an endeavor and the BRHA does charge a nominal fee for camping and day use. Once you visit you'll quickly see that the small fee is well worth it.
For more pictures, driving directions, weather forecast, GPS tracks and more from Anita Alta visit https://www.trailmeister.com/trails/anita-alta-horse-camp.
Taylor Mountain Trailhead (Coordinates – 47.432604, -121.971175)
On the Web: https://www.trailmeister.com/trails/taylor-mountain/
Hobart, Washington
Located in the pacific northwest just east of Seattle, Taylor Mountain's 30 plus miles of trails lay less than 30 miles from the bustling metropolis of Seattle and shares in Seattle's mild and wet winters. If you're willing to don rain gear this month, you'll experience Taylor Mountain's fabulous system of horse friendly trails.
Quick Fact – Seattle averages 201 cloudy days a year and is one of the top five rainiest cities in the lower forty-eight.
The Taylor Mountain riding area is well over 1,900 acres of county park plus adjacent Department of Natural Resources and City of Seattle properties. It's a big area filled with many looping and winding trails that crisscross mountain crests, valleys, and meadows of the area. This working forest is managed not only for wonderful horse riding opportunities but also as a working forest. This means that occasionally riders will encounter logging and other operations as the land is actively managed to conserve and protect the ecosystem.
And what an ecosystem you'll find here!  From gurgling streams framed in Jurassic-like ferns to forests filled with alders and firs, riders can find a variety of environments to explore.  Routes range from broad gravel logging roads to twisting single track trails that hug the hillsides and climb to mountain tops with outstanding views of nearby Mount Rainier.
Horse and mule riders can enjoy the many faces of Taylor mountain throughout the year. Winter rides can take riders from damp and misty lowlands to snow sprinkled trails in the higher elevations. Spring rides include thick masses of pink Salmonberry blooms, and the occasional bear sighting. Summer brings blue bird skies and again incredible views of Mount Rainier towering in the south. Falls colors aren't lost here either with alders crowned in gold and yellow. Fall riders with sharp eyes have a chance of sighting Coho salmon in Holder and Carey Creeks as they swim upstream to spawn.
The trail system at Taylor is extremely well marked and maintained. Doing a lot of that maintaining is the Tahoma Chapter of the Backcountry Horsemen of Washington whose members partake in numerous work parties. Besides numerous trail clearing projects every year the Tahoma chapter was also instrumental in acquiring the new equine parking area with plenty of room for 25 truck and trailer rigs. Hooray for Tahoma and thank you for working hard to clear the many downed branches and trees from the trails each year!
For more pictures, driving directions, weather forecast, GPS tracks and more from Taylor Mountain visit www.trailmeister.com/trails/taylor-mountain.