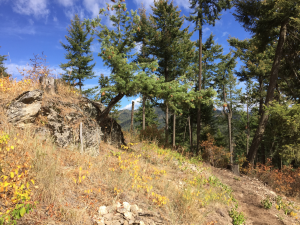 Keeping Paradise Possible – 3 Things you can do to keep horse trails open
Paradise. For some that's an image of a tropical beach, for me it's a dirt trail that twists and meanders to a backcountry camp deep in the wilderness. It's a quiet solitude punctuated by the peaceful clip clop of hooves and the far scream of an eagle aloft. It's the sweet perfume of pine on a warm summer day. It's the companionship of a trusted horse who will faithfully take you home.
Unfortunately, in a growing number of cases paradise is padlocked.
In only a few short generations we've "improved" a lot of backcountry and rural areas into suburbia and shopping malls. Trail Closed signs are both dreaded and unfortunately frequently encountered. Lest we lose them, we'd better take care of the equine friendly country that remains.  Paradise needs protecting.
You don't have to be a trail rider, or even have your own horse, to recognize the importance of conserving horse trails. There are many things that each of us can do to preserve equine trails. The following are three easy ways that I have found to help.
Volunteer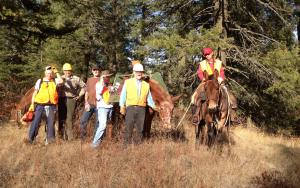 It's not forest elves that are magically keeping your trails open. Budget cuts have slashed maintenance efforts on public lands. Most trail maintenance is done by volunteer organizations such as your state's Horse Council, or your local Back Country Horsemen chapter.
Organizations such as these are a loud voice for horse riders across the nation. They protect riding trails and wild lands, take volunteers out to maintain trails, and promote equestrian activities as a healthful and enjoyable way to explore the outdoors.
You can help by joining these organizations. There are many great reasons to connect. To give back to your trails; the fun, the folks you meet, and the skills you'll learn along the way. Amazing, hard-working volunteers are why trail maintenance programs can accomplish so much for horse trails every year.
My first volunteer trail project was with the Tahoma Chapter of the Back Country Horsemen of Washington in 2009. I helped build a new section of the Pacific Crest Trail. Dozens of concerned and committed BCHW volunteers helped move ¼ mile of the PCT away from the side of a road. My volunteer experiences have been magnificent. Yours will be too.
Despite popular belief, the ability to enjoy horse trails is not free. Countless hours are spent meeting, planning, and advocating for every precious foot of trail that gets built and for every acre of open space that is preserved. It's a significant effort, undertaken by dedicated volunteers looking to improve communities and trail access for all. Whether you're new to trail riding, an endurance rider with thousands of miles under your belt or a back-country packer, one thing is unquestionable: none of these trails would exist if it weren't for volunteer groups that actively advocate for your right to ride them.
Organize
Horse clubs are focal points for both social events and trail stewardship efforts. For me the biggest reason to join an equestrian club is for the comradery of people who have the same interests. Being able to talk about trail conditions, feed, training, etc. is priceless.
Don't have a local chapter of a Horse Council or a Back Country Horsemen group nearby, or don't care for the one that is? Start a new one. These organizations are always looking for new members and new chapters. A quick google search will put you in touch with someone who can help.
Here are four reasons to join, or start, a horse club. And quotes from those who have.
You'll meet like-minded people and make new friends
"Share activities with like-minded people both socially and out on the trails."
"The diversity of a club's membership allows members to ride and camp with others who have similar aspirations and at a whole range of experiences. It makes it easy to find people to ride with when their regular partner is unable to get away."
"There's a large group of us who don't just go out on club rides, we'll meet up on other weekends too – it's great to have lots of different people to go riding with."
"Looking for love?  I know lots of couples who met through horses!"
You'll see new places and do new things
"You can expand the scope of your own activities by taking part in those organized by more experienced members"
"A lot of clubs have a range of social events which complements the riding scene"
"If you want to go to a new trail area there's bound to be someone in the club who has already been and willing to give you info on the place"
You'll learn new skills
"Many clubs offer training opportunities, however chaotic or informal, and there are always more experienced members around to provide guidance and help."
"Practical peer-to-peer coaching so that we all learn together"
"Knowledge transfer from more experienced members, a bit like an apprenticeship"
"As a new member I doubt that I'd have made the steps to ride outside the arena without the support of the club"
It's fun!
"It's more fun spending your day out with others.  And they can get great photos of you and your partner on rides too."
There are more benefits than just being a member of a club. There are new friends to be made, information to learn and most of all the comradery of people who get what it means to love horses and trail riding.
Avoid Muddy Trails
I count this under the headings of both good stewardship and good relations with other trail users.
Rain will be in the forecast. Throughout the spring season, trails tend to be more saturated and hold more water, sometimes taking days to dry. Simply put, if mud or wet trail is sticking to your shoe or your horse's shoes, you should turn around.
I understand that "stuff" happens. Through either bad circumstance, or poor judgement, we've all found ourselves in situations and on trails we shouldn't have been on. I'm not here to place blame, or be a trail Nazis, but simply to spread awareness and encourage everyone to be considerate trail users. After all, these are our trails, paid for largely by our tax dollars, donations, and volunteer labor. It's up to us to protect and sustain them for years to come.
Here are two reasons not to ride Muddy trails.
Ruts Suck – I often hear that "wet trails fix themselves" and "horses don't cause trail damage." No and no. Trail damage and erosion that occurs over time from proper use is a different beast than that which occurs because of abuse. Once ruts are formed, they are aggravated by further travel and water, often requiring hours of labor to correct. Also, those trails that we crave are no match for running water which takes the path of least resistance. Ruts create low spots trapping moisture that would otherwise run off the slope, further deepening over time and forming mini canals. Want your trails to look like the Grand Canyon? Neither do I.
Trail Expansion – When trails are wet, and ruts start to form, people and horses naturally tend to veer around them, hence widening what once was a singletrack path. One of the arguments against allowing equestrian access to trails is the damage they do to sensitive environments. When horses stay on a defined path, they cause very little impact. It's only when riders start cutting corners, riding around wet spots, and forging their own path that such damage occurs. Please help keep singletrack single, and when you encounter wet stretches of trail, please consider the potential consequences of walking around the mud. This is vital not only for trail sustainability, but for ensuring our access as horse and mule riders for years to come.
With that said, I know asking everyone to wait until all trails are completely dry before venturing out is about as effective as abstinence only education. No one likes being told what to do, especially equestrians, however, we should take responsibility for our actions and consider the potential impact we are having both now and down the road. Think about it this way: the more time trail crews spend repairing trails, the less time and effort they can allocate towards other improvements.
We live during a time when equine trail use is being curtailed. Most Americans live in urban settings, removed from our version of paradise. Most of them don't understand the importance of conservation, outdoor recreation, and the protection of trails.
Riders like you and I need to protect and ensure the future of horse trails. We can't assume that these trails will remain available whenever we choose to use them.
Please, don't wait until you're faced with a crisis before you get involved. Volunteer with trail projects, join a club that will help protect your trail access, and educate yourself and others on best practices.