Tis the Season!  Christmas of 2017 is upon us. Here are 4 wonderful and thoughtful gifts for the horse rider in your life.
The Gift of Warmth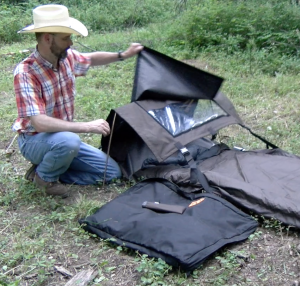 5 Owls Ranger 2 Bedroll
When you're camping, staying warm and dry at night is paramount to a great day. This innovative and practical cowboy bedroll makes sure that nights spent camping with your horses are full of restful slumber. https://www.trailmeister.com/5-owls-ranger-2-bedroll-review/
The Gift of Dry
Lap Robes by Martha
Winter is no match for these Lap Robes!  Whether you're in the arena or on the trail Martha's Lap Robes will keep you warm, dry, and able to better enjoy wintery wet riding!  Available in a wide variety of colors and patterns these Lap Robes are built as strong as your animal. Rugged 600 denier Cordura repels brush and snags as well as rain. Toasty warm microfleece layers underneath to hold warmth next to you. https://www.trailmeister.com/lap-robe/ 
The Gift of Peace
I.C.E by Sierra View Ranch
Sierra View Ranch's I.C.E. products were created with one goal in mind. TO REUNITE YOU WITH YOUR ANIMAL. Having a reliable ID system for our equine partners is important. Sierra View Ranch makes it easy to be prepared for emergency situations with a variety of well-designed and built tools that will help protect and reunite you with your beloved animals. https://www.trailmeister.com/sierra-view-ranch-i-c-e-products/ 
The Gift of Clean
HandsOn Grooming Gloves
HandsOn Grooming Gloves have replaced and surpassed brushes and curry combs for most of my grooming needs. These flexible gloves make it easy to hold leads, use bottles, or hoof-picks while wearing. Even better my animals love them. https://www.trailmeister.com/handson-grooming-glove/ 
And a Gift for our Horses and Mules
These fabulous cookies are full of apply oaty goodness that your horse will love!
Oat & Apple Cookies
Ingredients:
1 ½ cups unsweetened applesauce
1 cup quick oats
½ cup flour
Directions:
Heat oven to 350 degrees F
Grease baking pan.
Mix all the ingredients until the applesauce is evenly distributed, then spread the mixture evenly in the pan.
Bake until it browns.
Allow the mixture to cool then cut into squares.
Enjoy!